Anna's 10th Birthday Party
Anna and all her friends really love music, so Anna wanted to have a dance party with all their favorite tunes: Mostly Miley Cyrus, Taylor Swift, and Michael Jackson, with a few songs by Ashley Tisdale and others. Luckily, her dad has all the equipment and he's a good (and willing) DJ!

How do you like the party invitation? Cool, eh?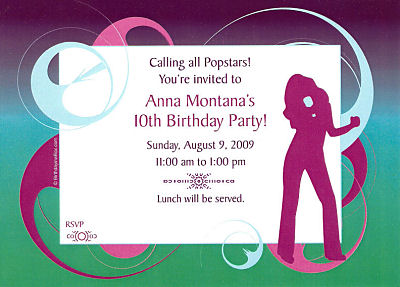 OK, she's ready and can't wait for her friends to arrive! (She has a sparkly flower sticker-tatoo under her eye.)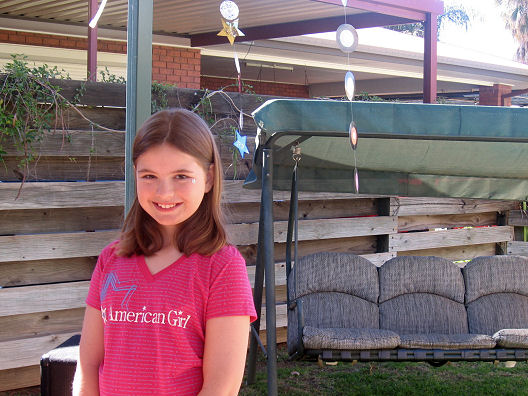 The first arrivals... L to R: Jessica, Anna, Sophie, Kerubo, and Siobhan.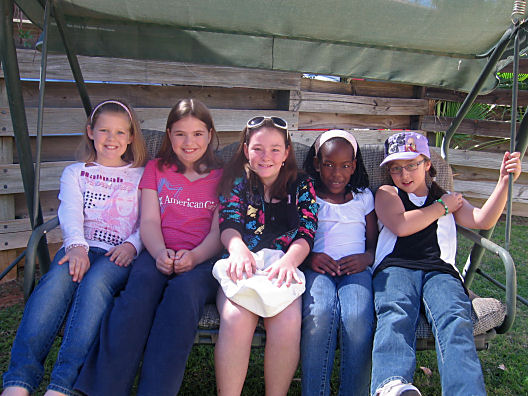 All the girls love Samson and he loves the attention from them! L to R: Jemma, Kate, and Kerubo.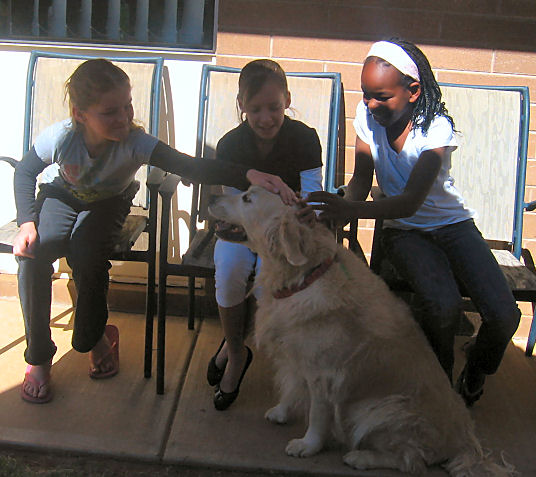 OK, let's get this party started!
We started with an air guitar and tamborine contest. The air guitar is actually an inflatable guitar, so it's an air guitar itself!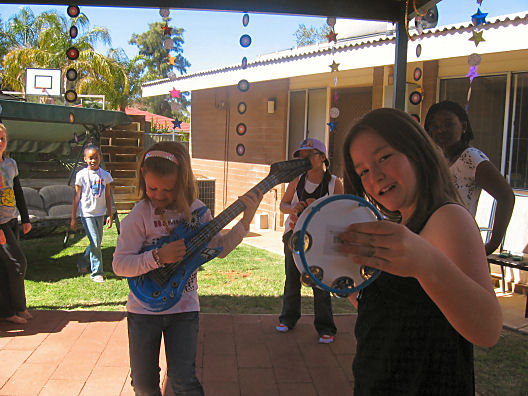 Crazy moves...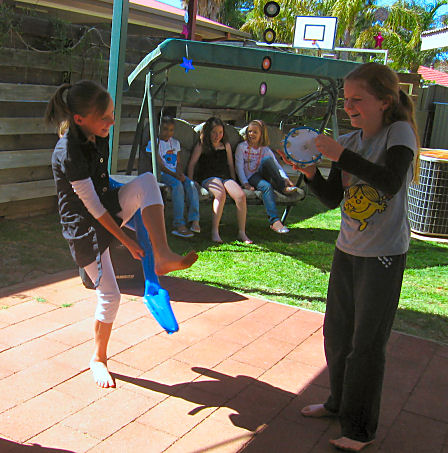 The birthday girl takes a turn. Nice moves on the tamborine, Siobhan!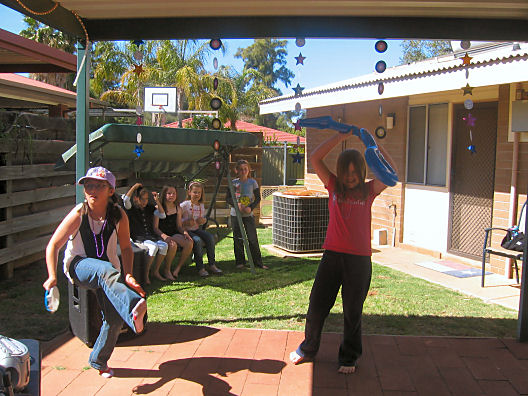 Kerubo and Thandy goin' for it!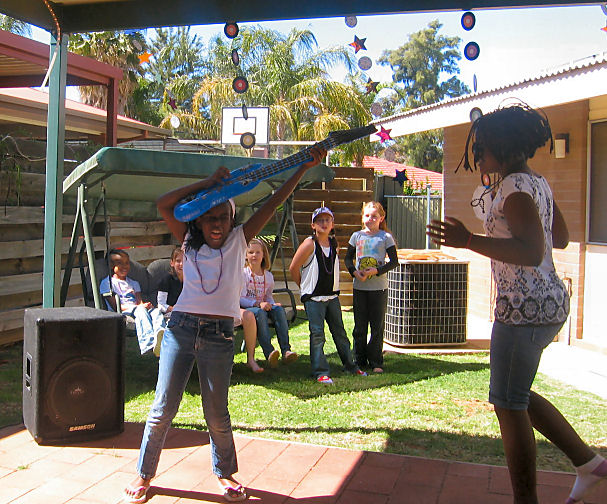 Love the flyin' dreds!!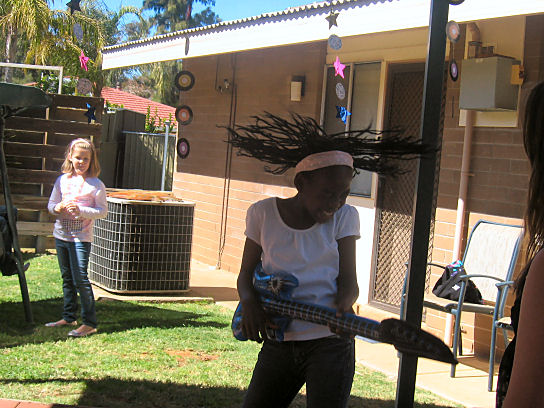 Sophie plays a mean air guitar, too!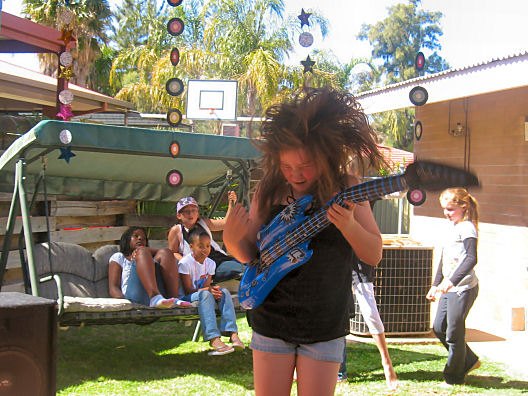 Takin' a break from the air guitar to play musical statues.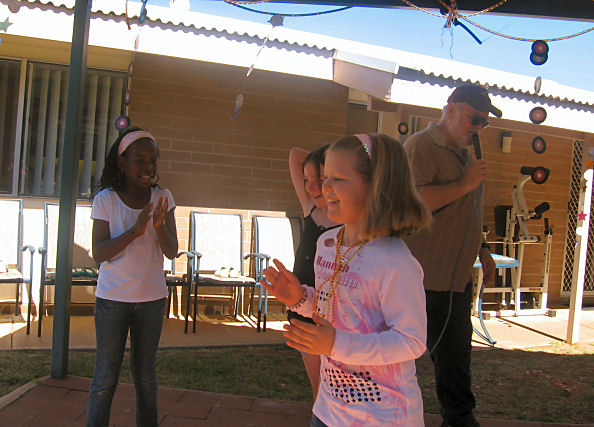 More air guitar and dancing...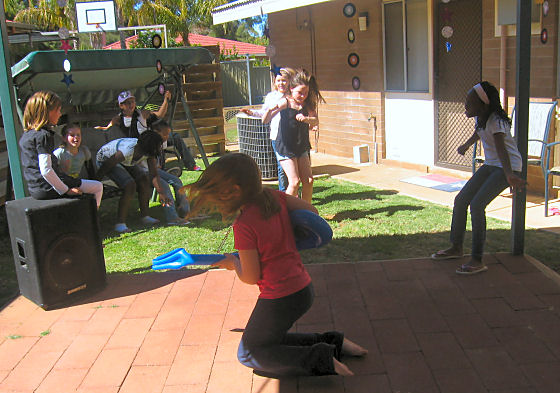 Go Girl!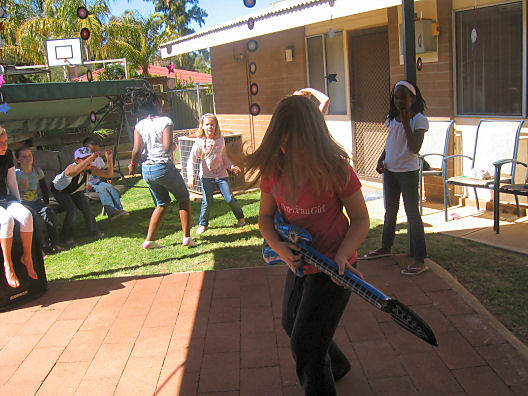 Jess takes a turn. It's hard to choose a winner - they're all so good!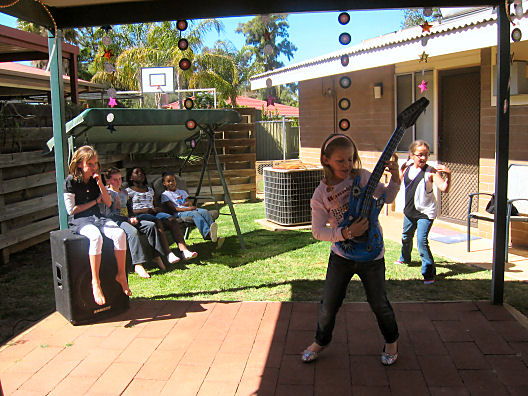 Kate making a stage run!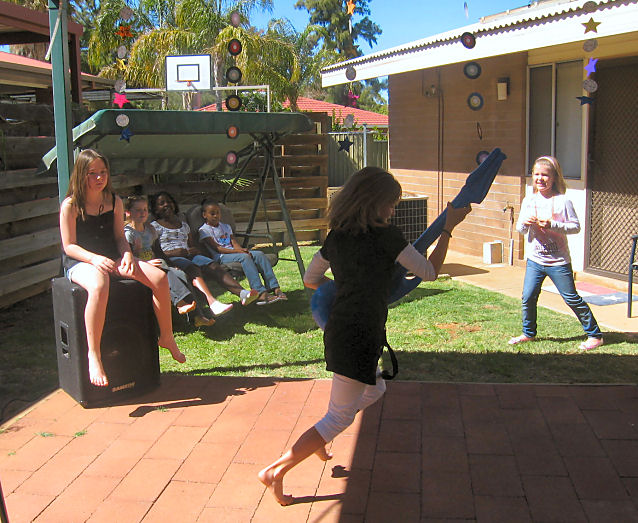 Kate ended up winning. She got to keep the air guitar, woo-hoo! Here she is giving her acceptance speech. It was too cute! (You'll have to trust us on that, since there's obviously no audio.)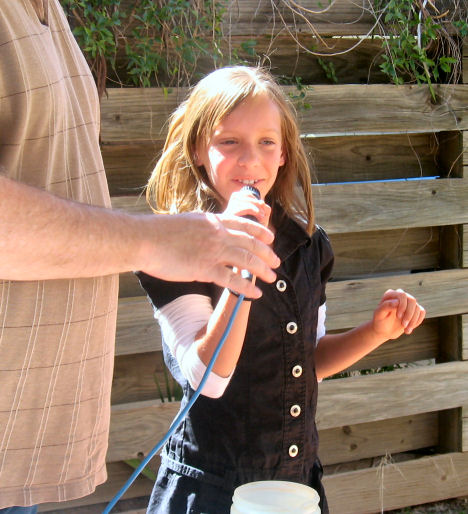 Dance fever continues... Lovely Hannah Montana shirt, Jess!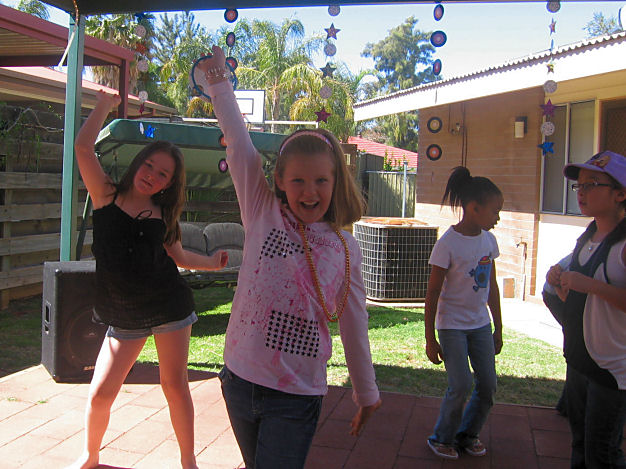 Invisible person? Heh, Thandy's doing bunny ears... good one Thandy!
Finally caught Aliyah (L) doing some dance moves!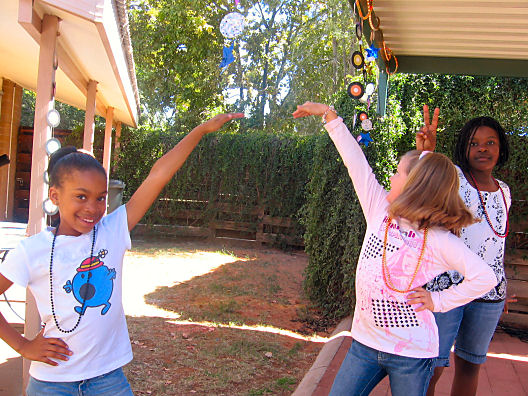 They've worked up a mighty thirst!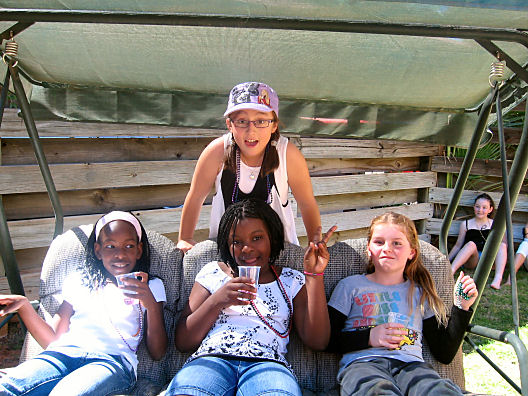 Back to the music... time for karaoke! All the girls loved singing the Pink song "So what (I'm still a rock star)"! Kate backing them up with her newly-won air guitar.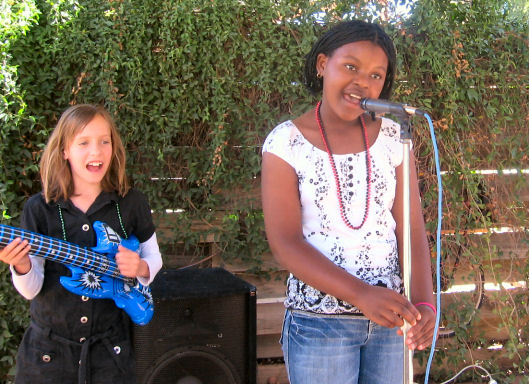 Whoa! Even Jemma got up to sing. She's usually a bit shy...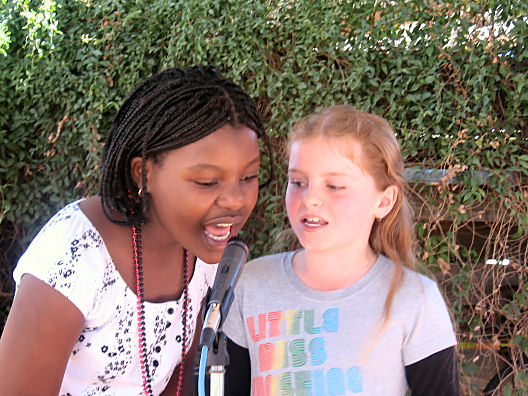 Party's over... thanks for coming!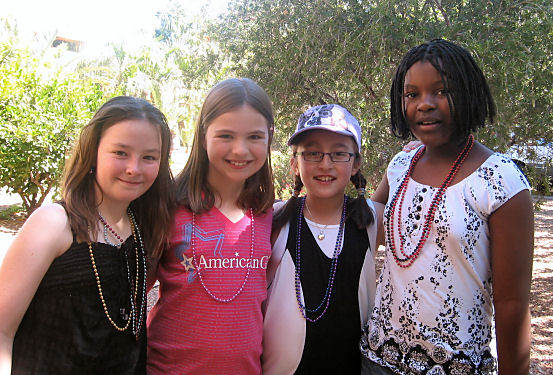 Later, Anna got her present from the parents. A "just like me" doll, which she loves! She named her Abigail Amelia - Abby for short. We wanted to get one without bangs ("fringe"), but the only one available had medium-toned skin and Anna is definitely fair, so we choose the fair-skinned one with bangs. Notice the matching outfits! They're pretty "dear" (expensive), but very good quality.
Since she collected donations for the RSPCA instead of taking gifts from her friends, we didn't mind spending a bit more for the doll and clothes. She deserves it!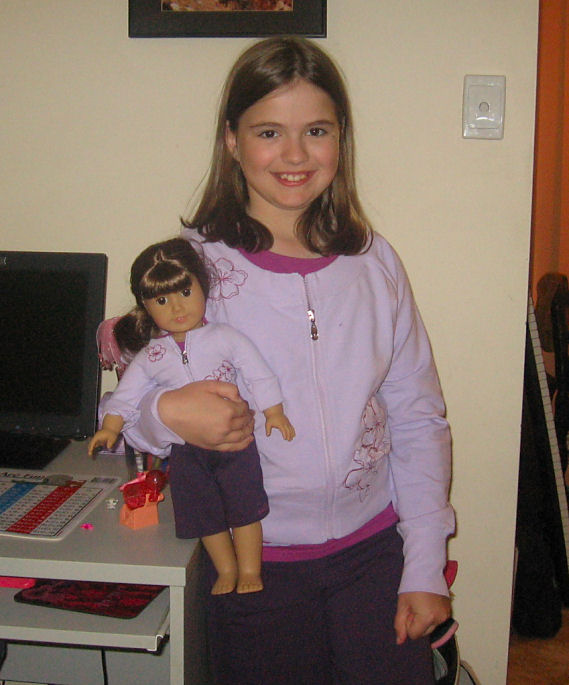 Here's the outfit without the jacket.
Cute, eh?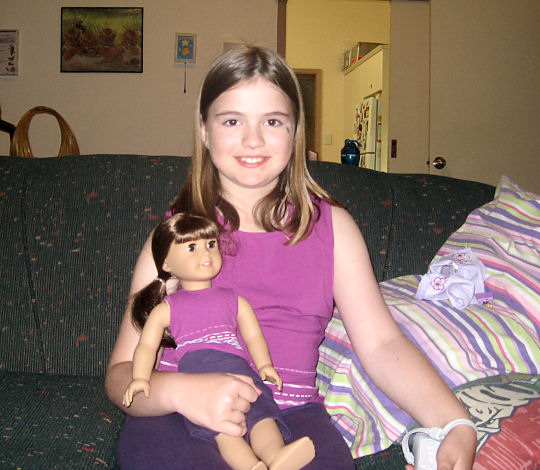 Another birthday is over. Everyone enjoyed the party and she had a great day overall!