Up the Track to the Top End
Knowing Chad would be home for a visit from uni between semesters, we started thinking about ideas for a family holiday. We hadn't been to Darwin yet and we knew this was a good time of year to go there. It's winter, which is known as "the dry", the season with no rain and no humidity. (It ended up being about 32 degrees celsius / 90 degrees fahrenheit each day, which is great winter weather in our book!)
The Top End of the Northern Territory is known for its tropical weather, rich indigenous culture, national parks and laid-back lifestyle, so we decided to drive up there and see things along the way, rather than flying straight into Darwin.
Here's a photo that shows the drive we're talking about (hot pink line near the top of the photo). This is Stuart Highway, aka "The Track", that extends all the way from Darwin to Adelaide (South Australia).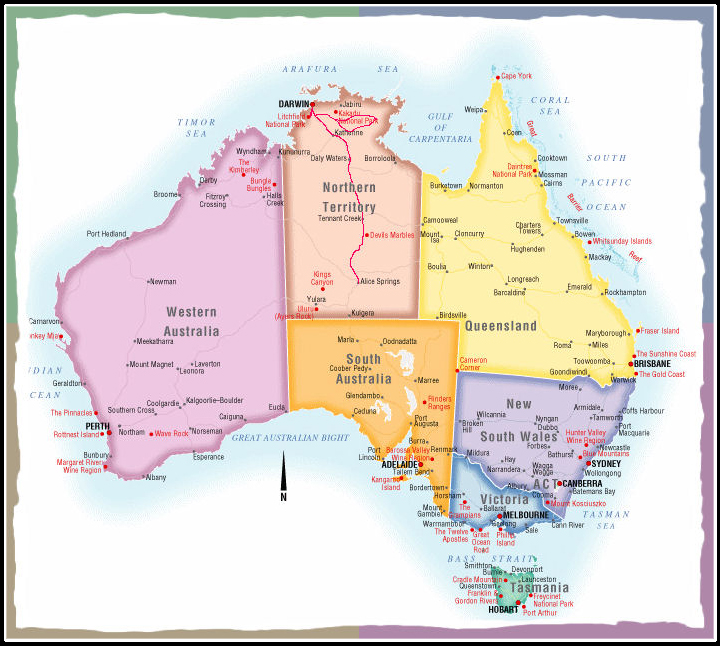 A more detailed view of the map...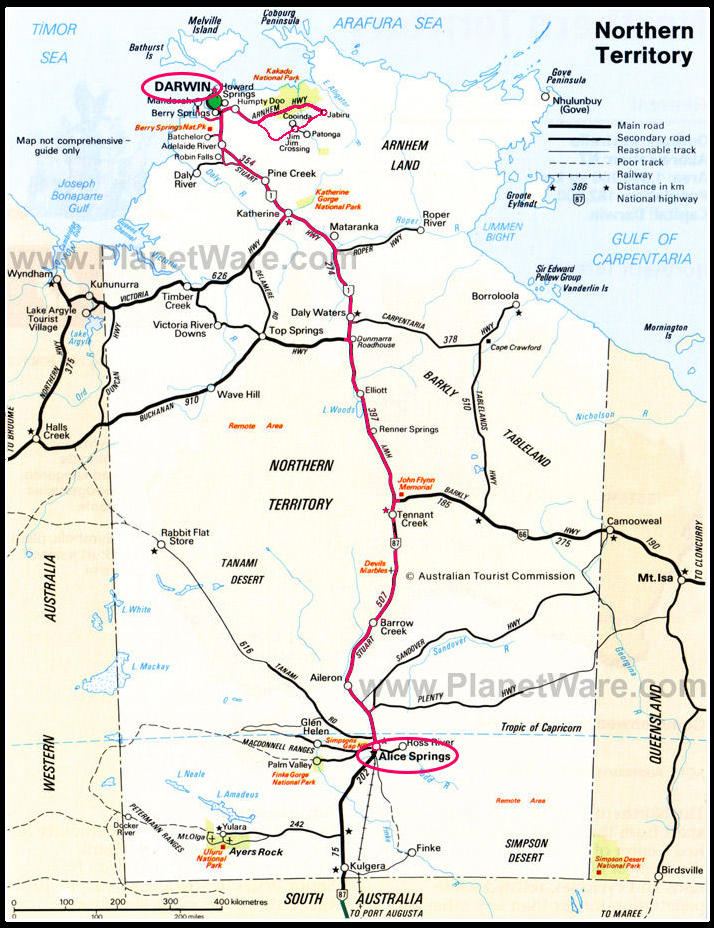 And we're off... this trip will be about 1,000 miles each way! Have headphones, will travel.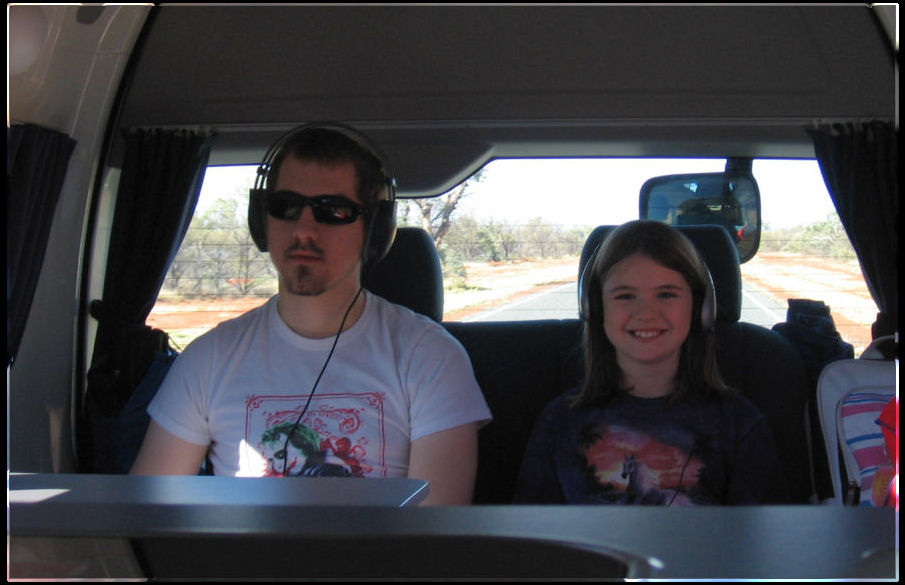 First stop, Aileron. This is the first of many roadhouses we stopped at to get snacks and fuel.
They seem to be an artistic mob there. Check out this lizard couple with the poor embarrassed girl.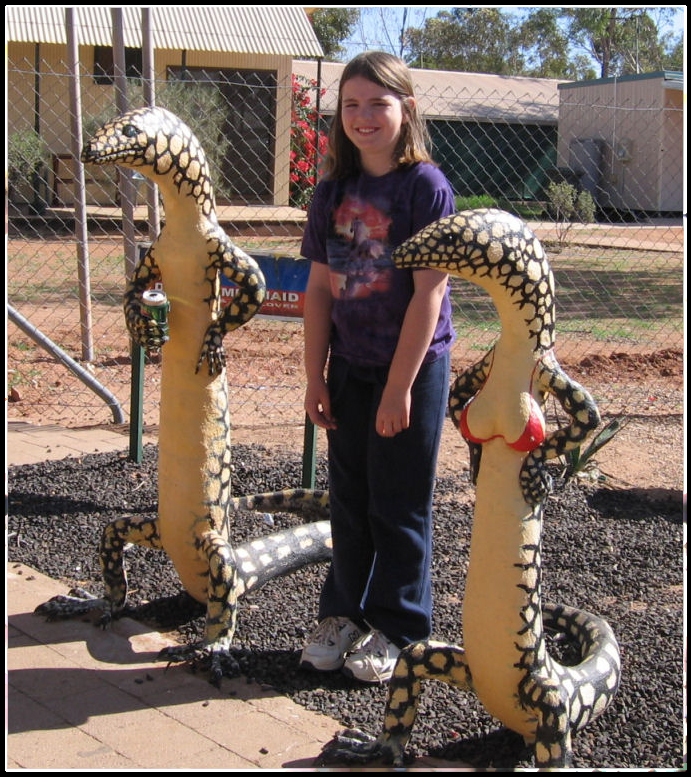 This statue is huge! Unfortunately, the fine detail doesn't show up too well. It's pretty amazing, though.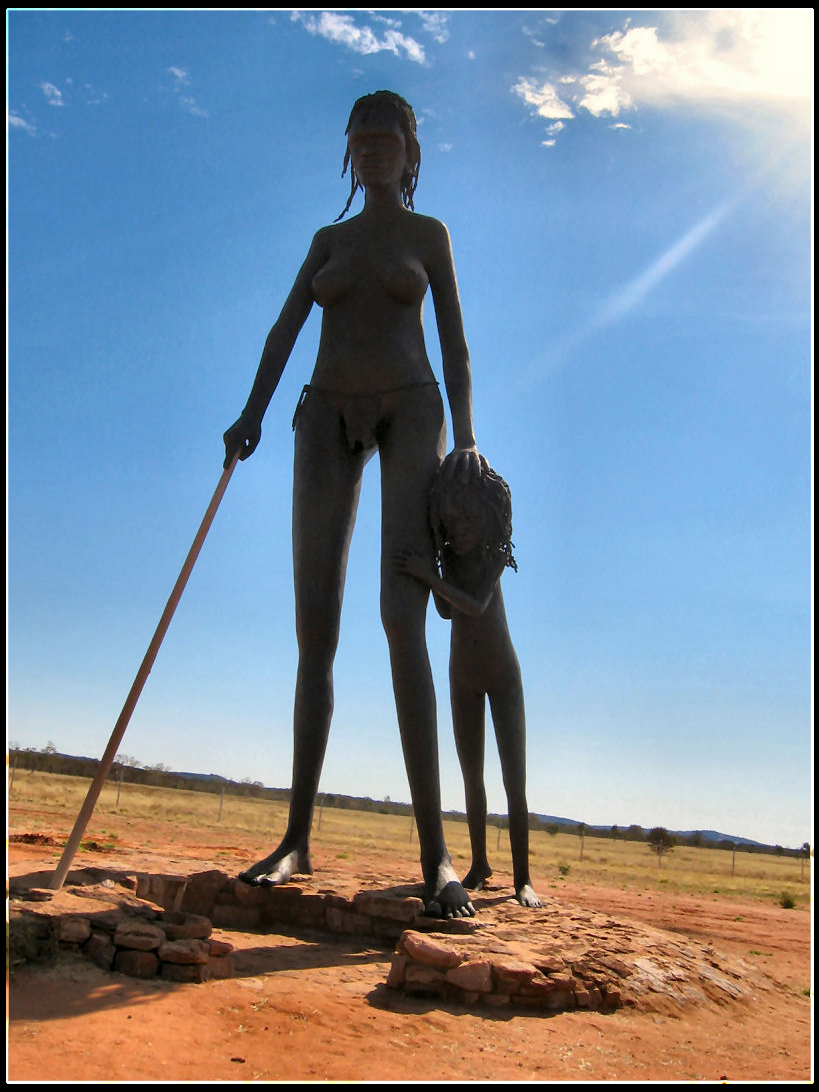 Here's another view...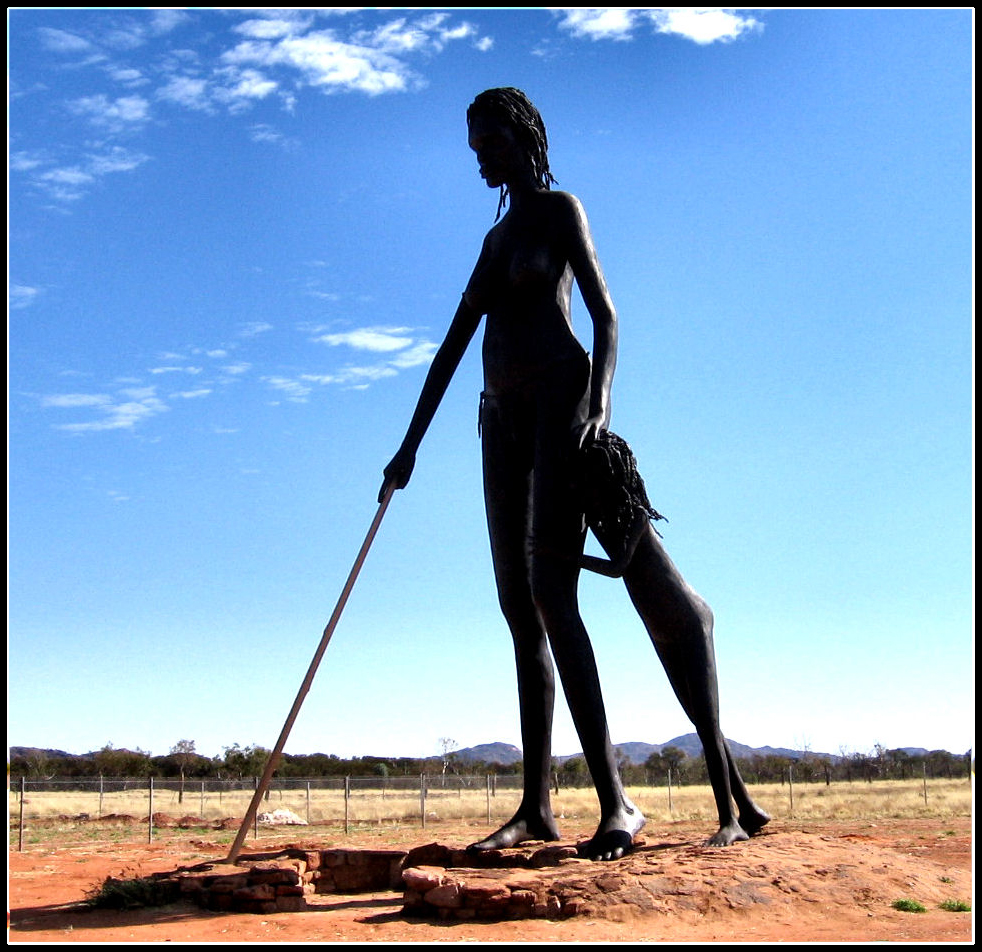 The warrior dad, "Anmatjere Man" is up on the hill.
He is 17 meters (over 55 feet) tall.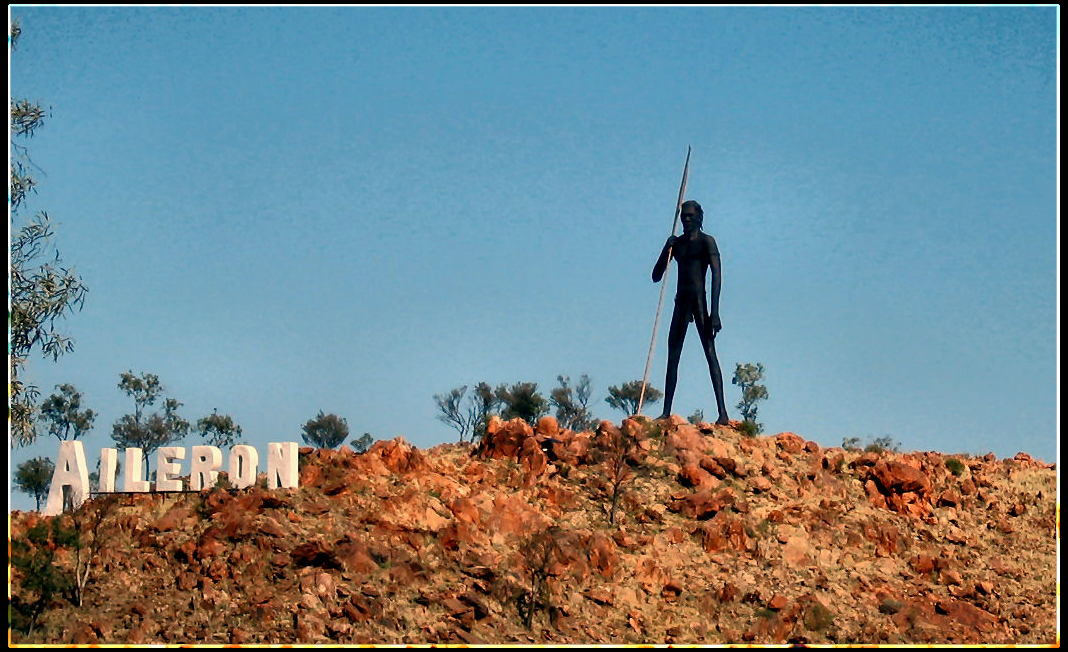 The next stop was Wycliffe Well, 380 km (236 miles) north of Alice Springs. It's a nice, clean holiday park and a good place to spend the night when traveling up and down the Track. By the way, it's the UFO capital of Australia!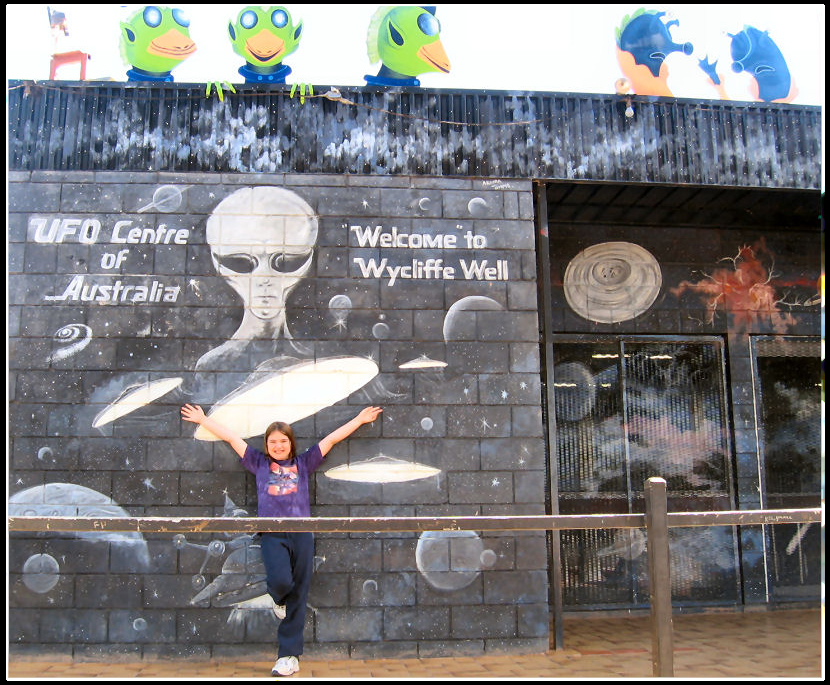 Fortunately, they do allow humans, too.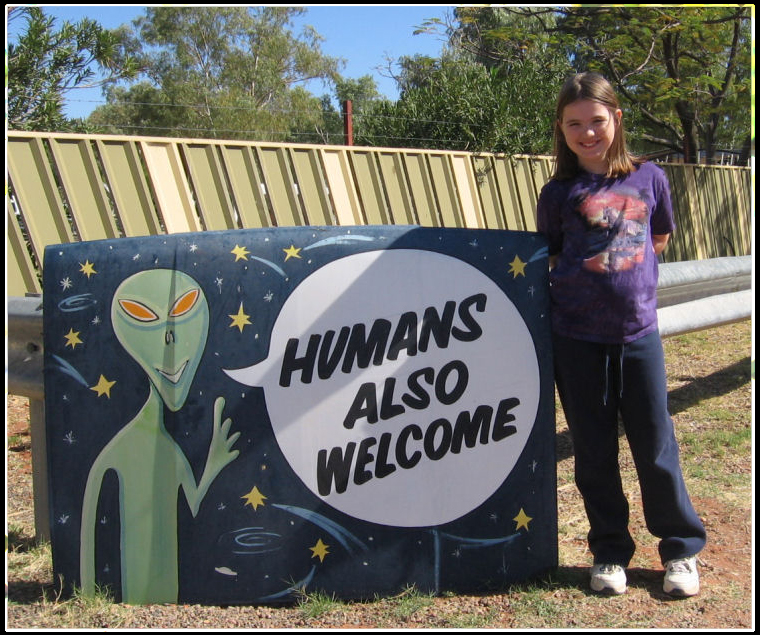 As long as they know their bounds, that is!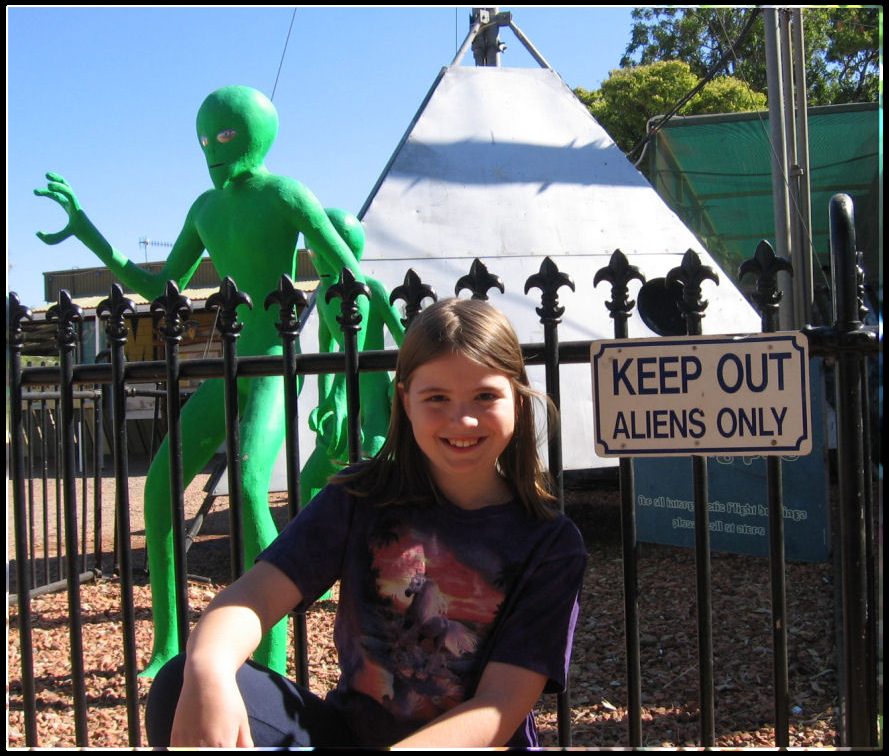 Here is the UFO landing pad.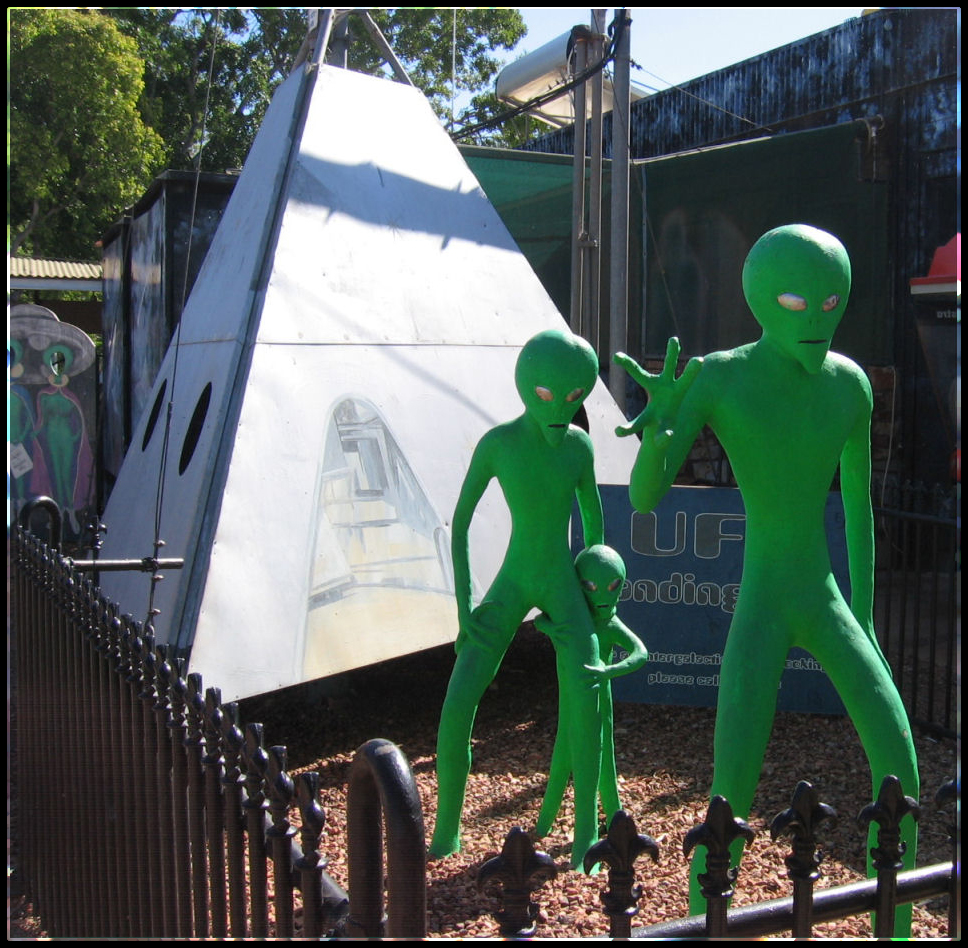 And another view of it. There are heaps of newspaper articles displayed inside describing UFO sightings over the years. It turns out the place I work is also a UFO landing site! I saw two articles stating that, so it must be true. I had no idea. Why am I always left out of the loop?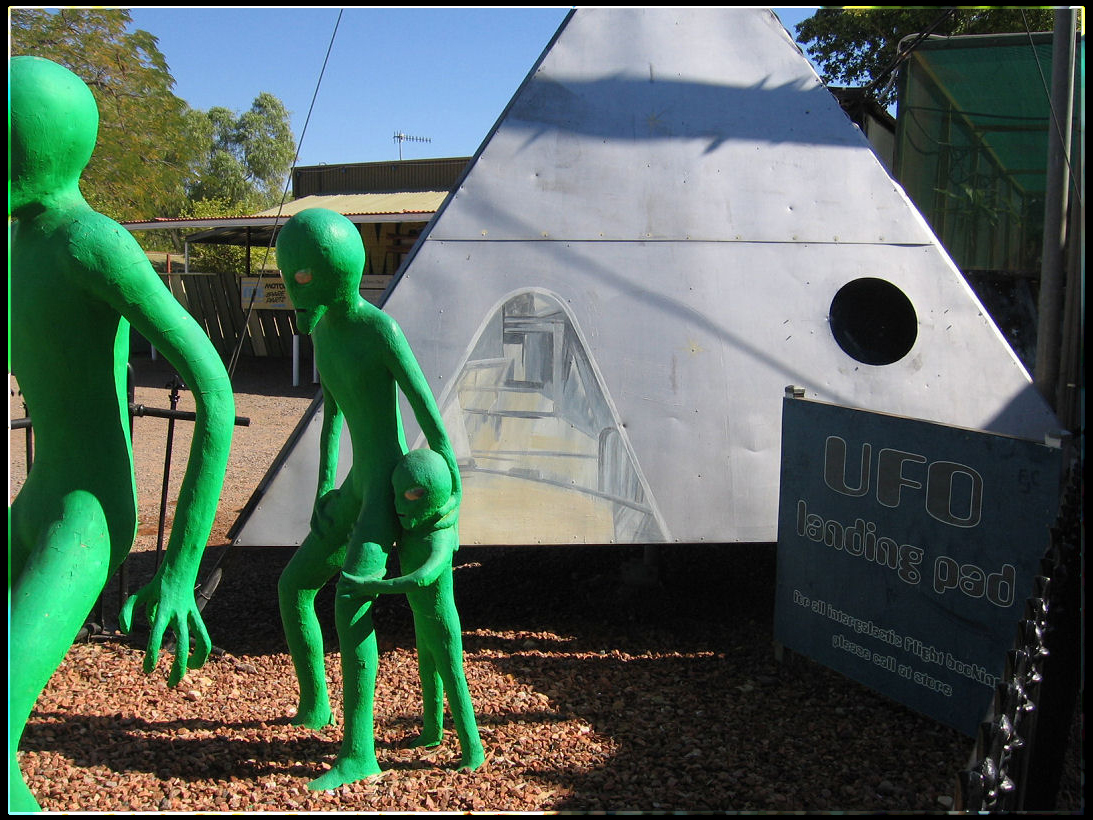 Here are a couple of the scariest aliens!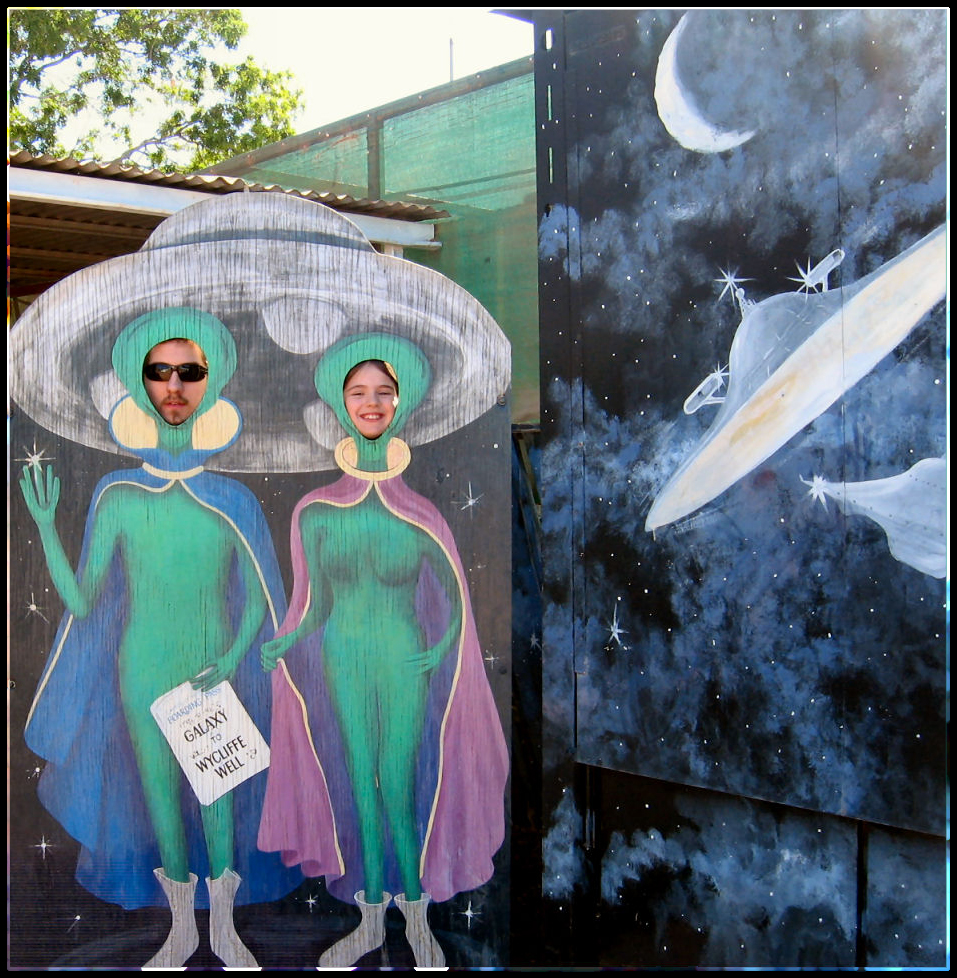 I hope they don't take this young girl back to space with them. We'd like to keep her here for a while longer, if that's OK.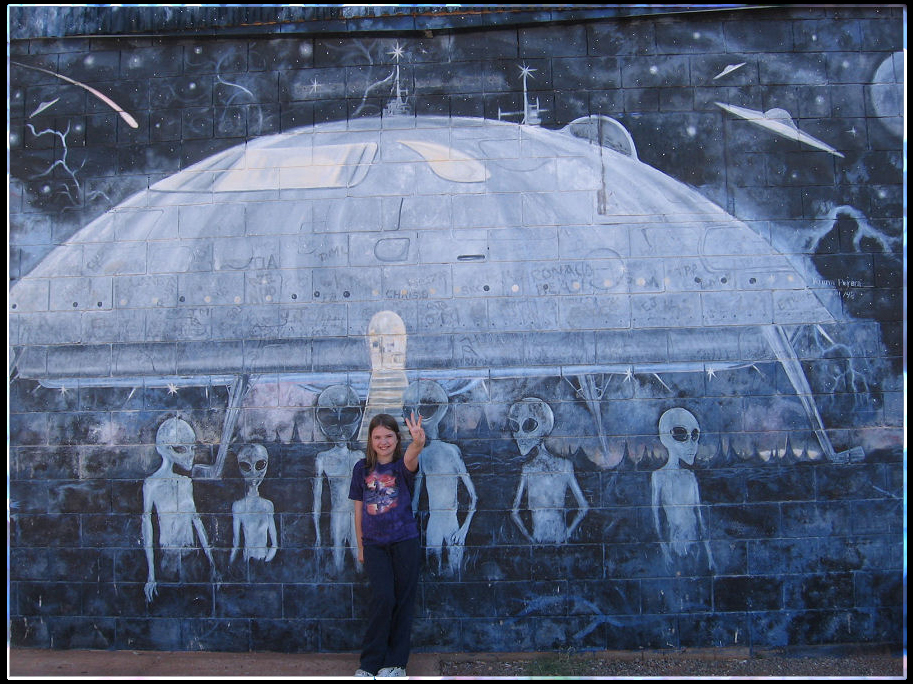 The owner

s are more tolerant of the aliens than the locals, ha!

(There they go again, always having to be politically correct.)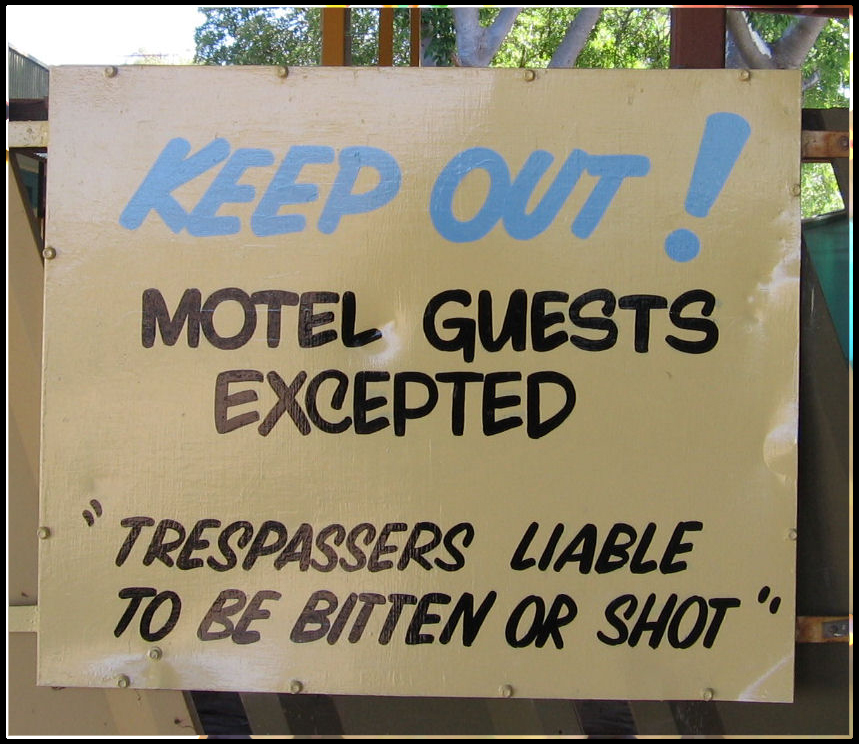 This was the house we stayed in. It was really nice inside, kind of like an old cowboy-style bunkhouse.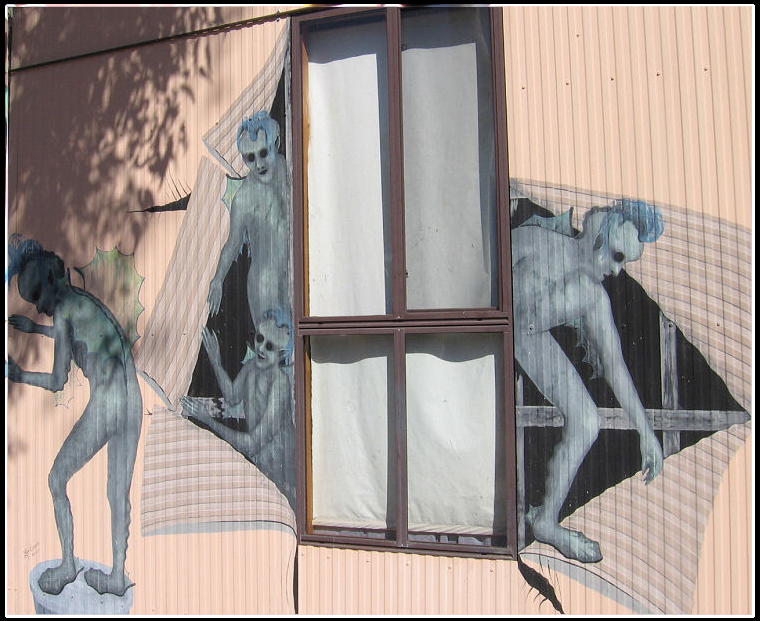 Anna was excited to see she had bunk beds in her room!
Oh no, another alien lan

ded out back!

They're all over the place.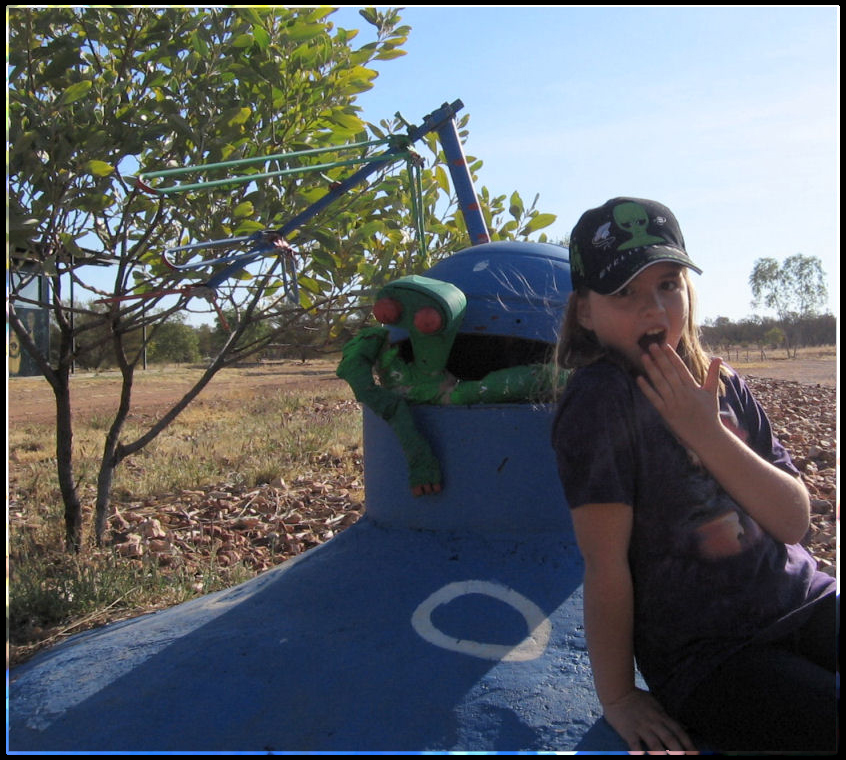 The souvenir hat is a must-have fashion accessory!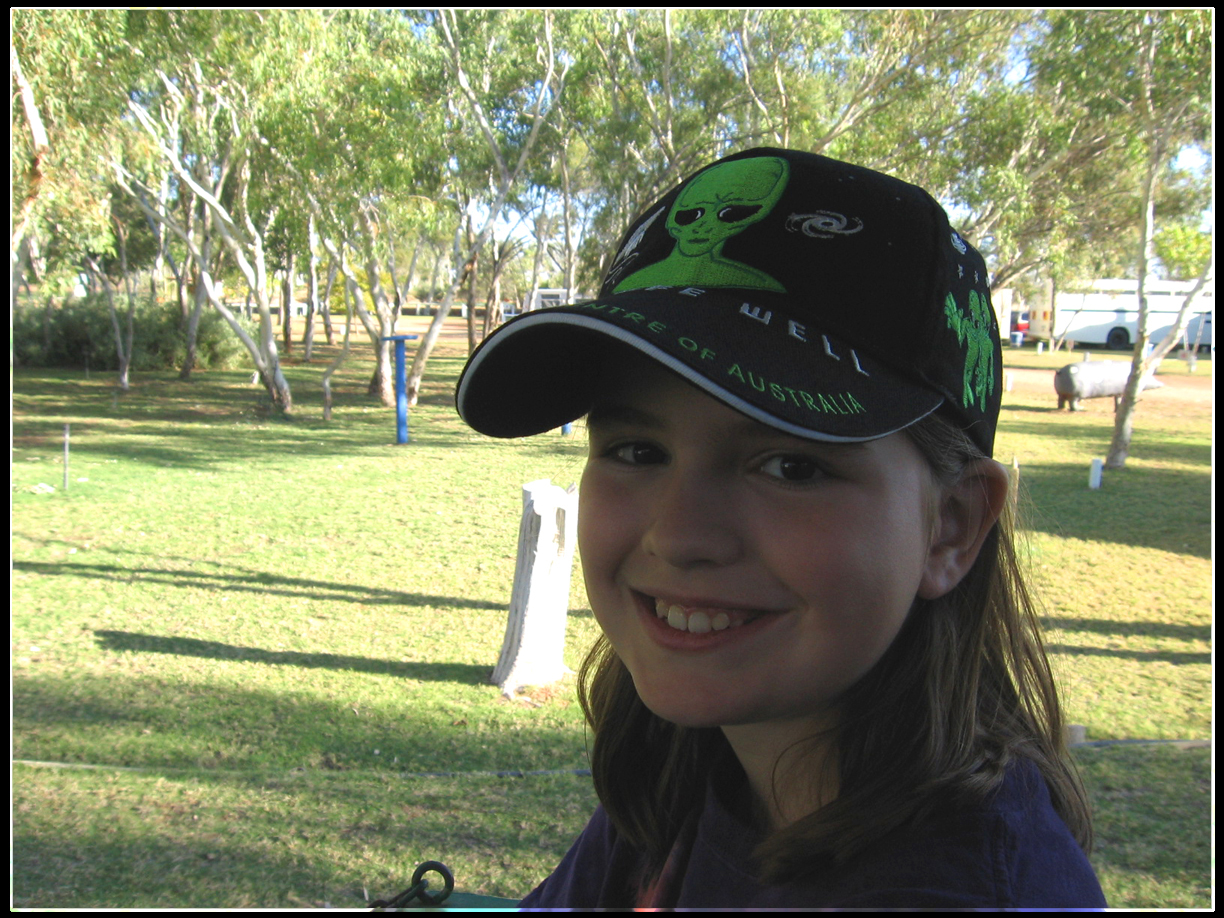 The grounds are nice with plenty of gum trees and ducks.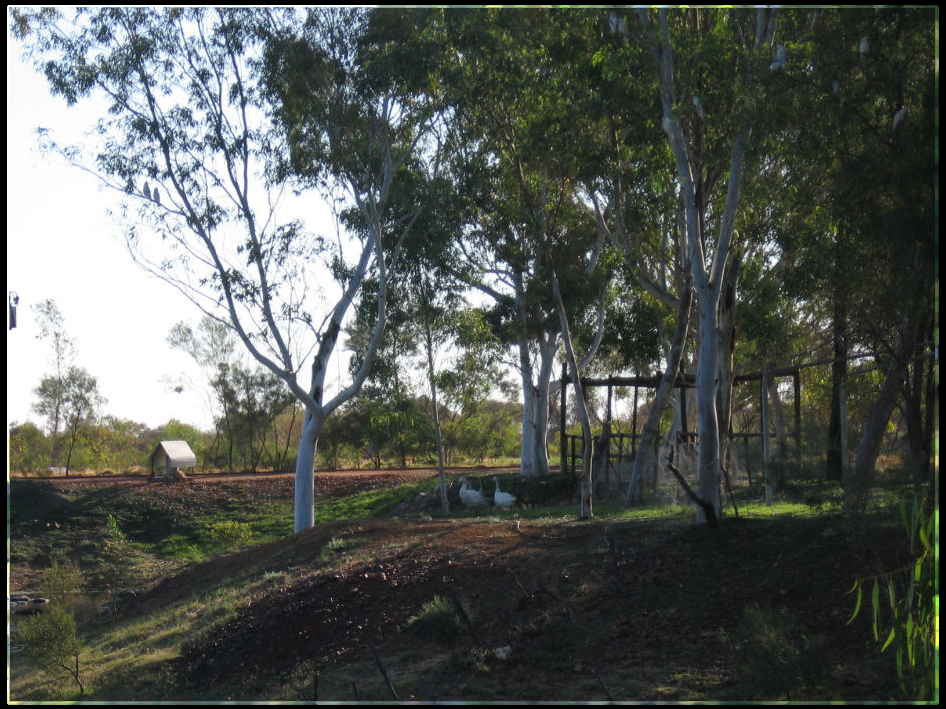 They offer a train ride that tours the property. One of the highlights is this little lake, which is lovely.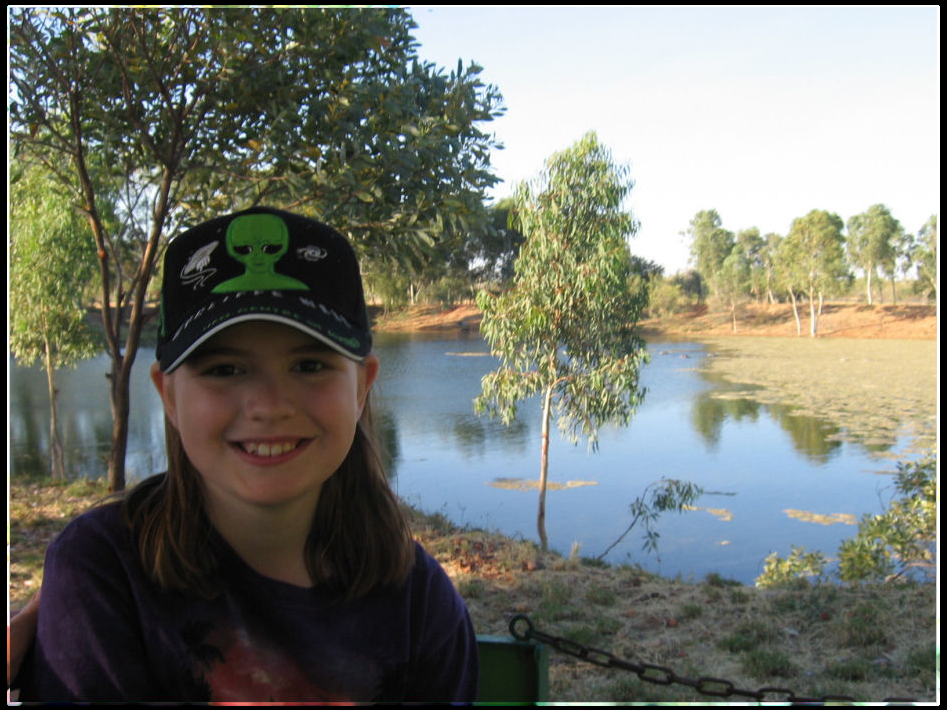 The two sweetest passengers on the train, I reckon! Oh yeah, the train stopped on occasion and the driver got out and talked about various things. There was a family with some young preschoolers sitting in front of us. The Mum kept telling them to "sshhhh" while the tour guide was talking. A few minutes later, I had to cough and the little girl in front (probably about 3) turned to me and went "ssshhh!!"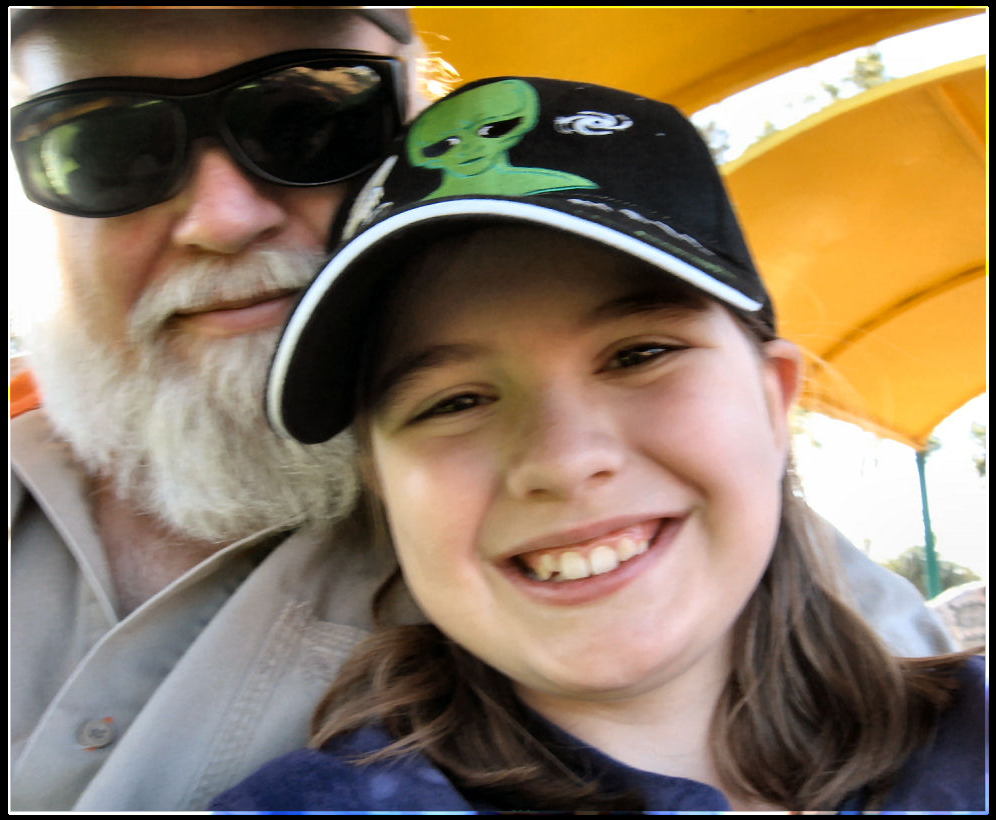 On to the Devil's Marbles. These are amazing large rocks that look like they were tossed across the fields by a giant!
They're not all exactly round like marbles, but hey, what else can you call 'em?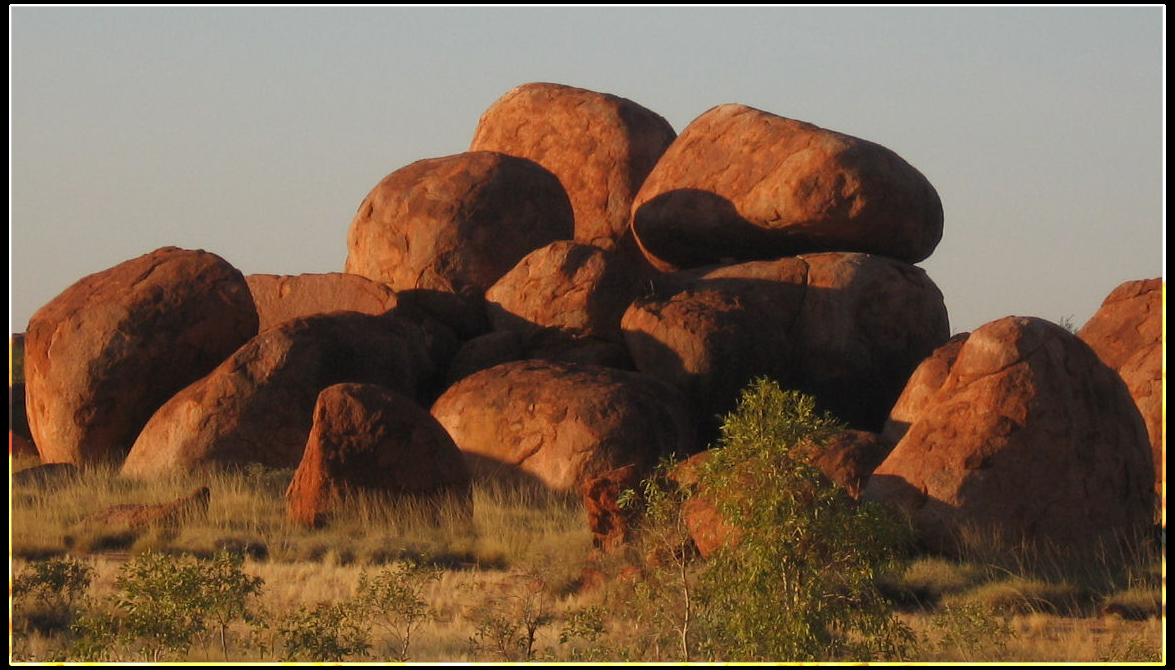 Yikes! I hope these don't fall! The look like they're about to slide off...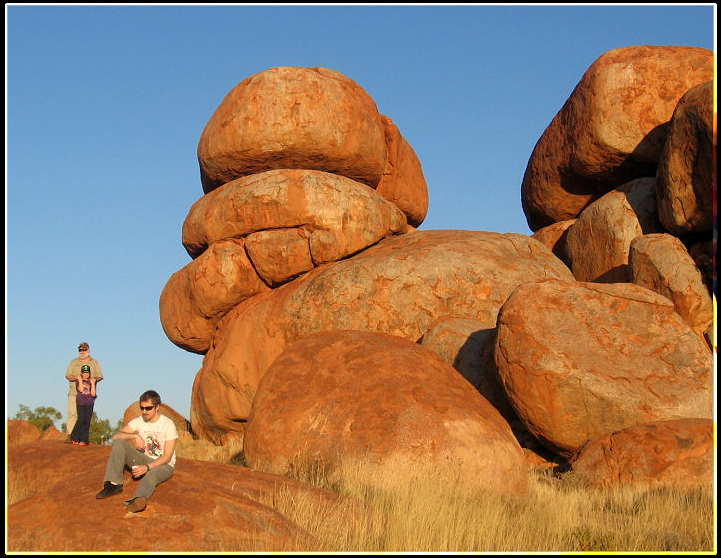 Ooh, there's a broken one and another one that's cracked.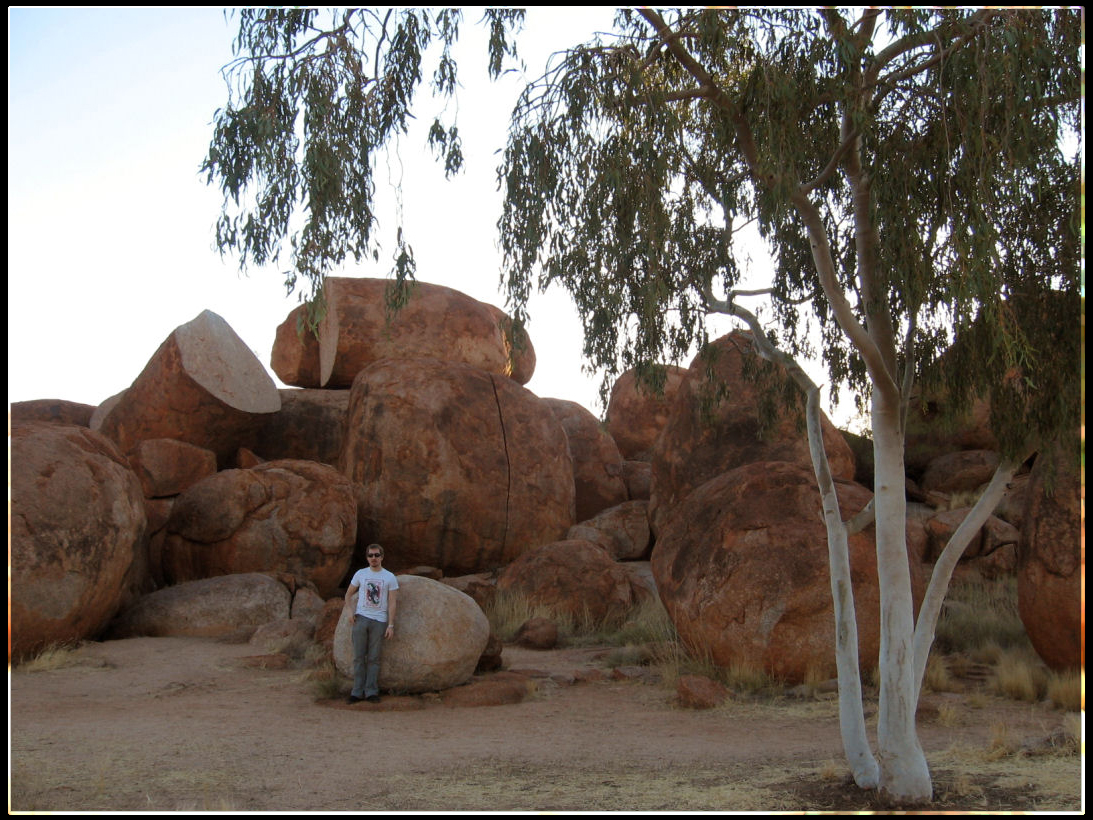 This is a typical photo of them. It makes it seem like there are only a few, but there are actually acres of them!

Hey, somebody help me move this thing - it's heavy!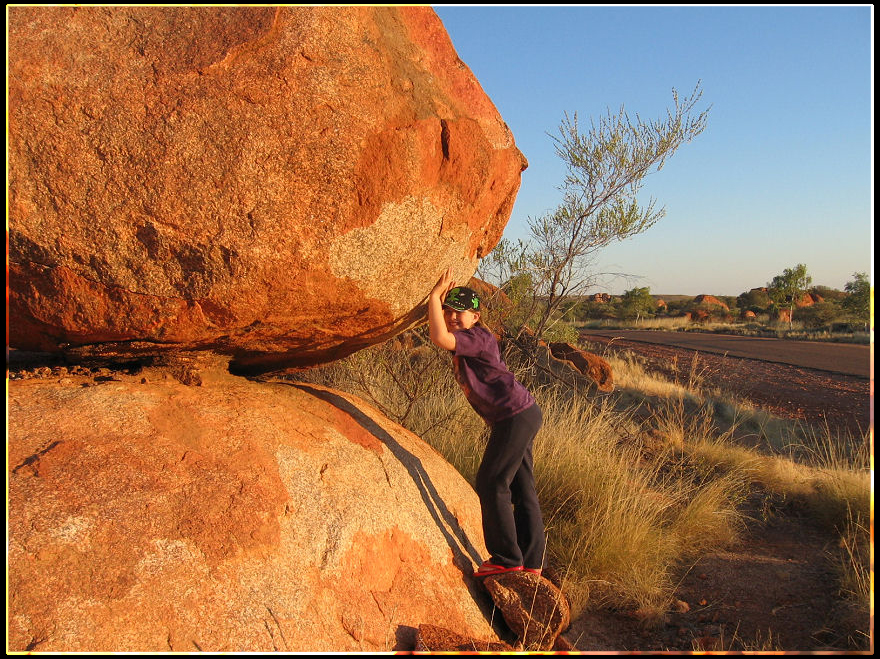 Um, hello-o-o, this is about to smash my head. I need some help here, people!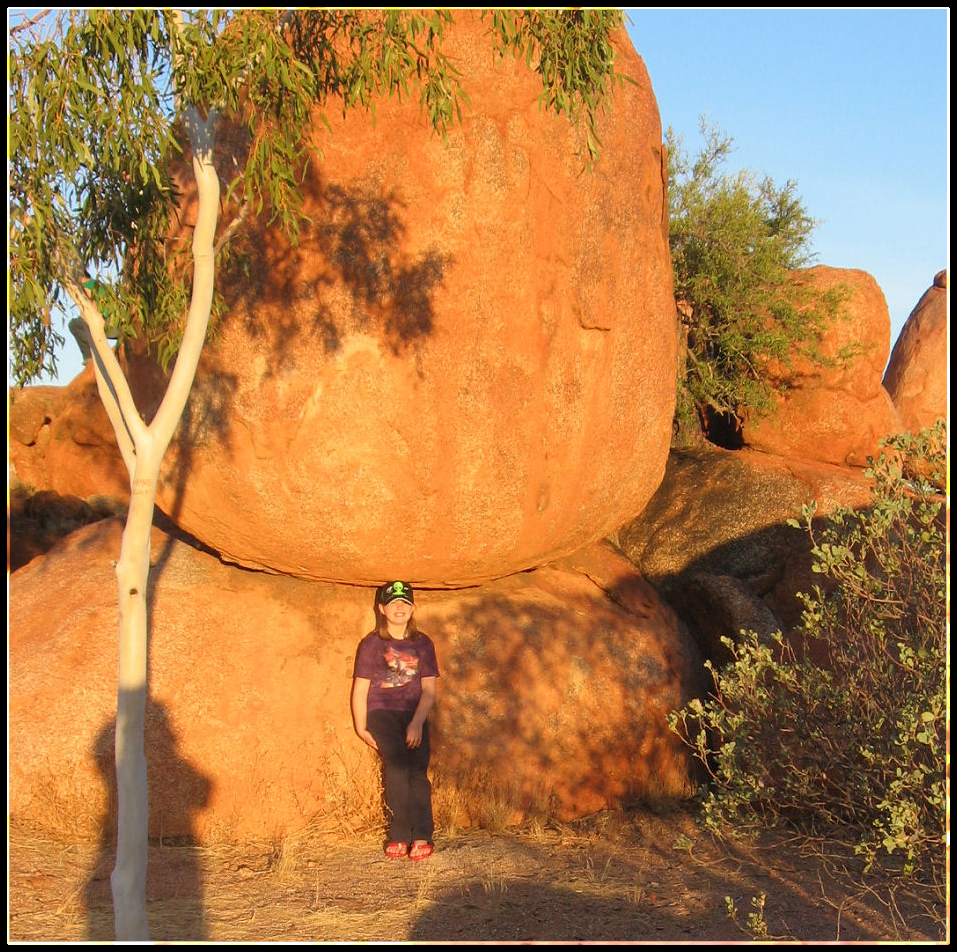 A small sampling of how many Devil's Marbles there are. There are heaps of them together (left and right of this view), then they just stop. There are no rogue marbles anywhere else up or down the Track.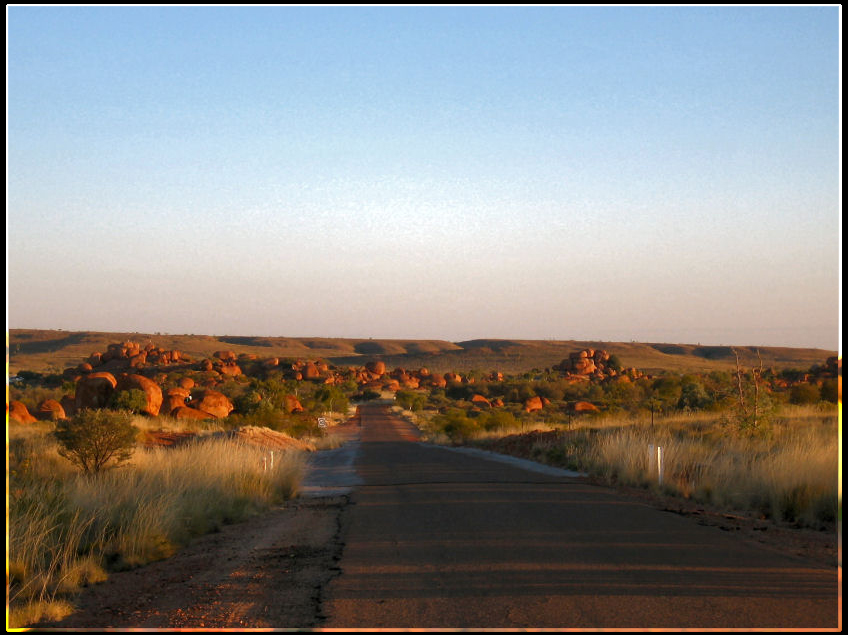 It's been a long day, quite tiring to play with those giant marbles!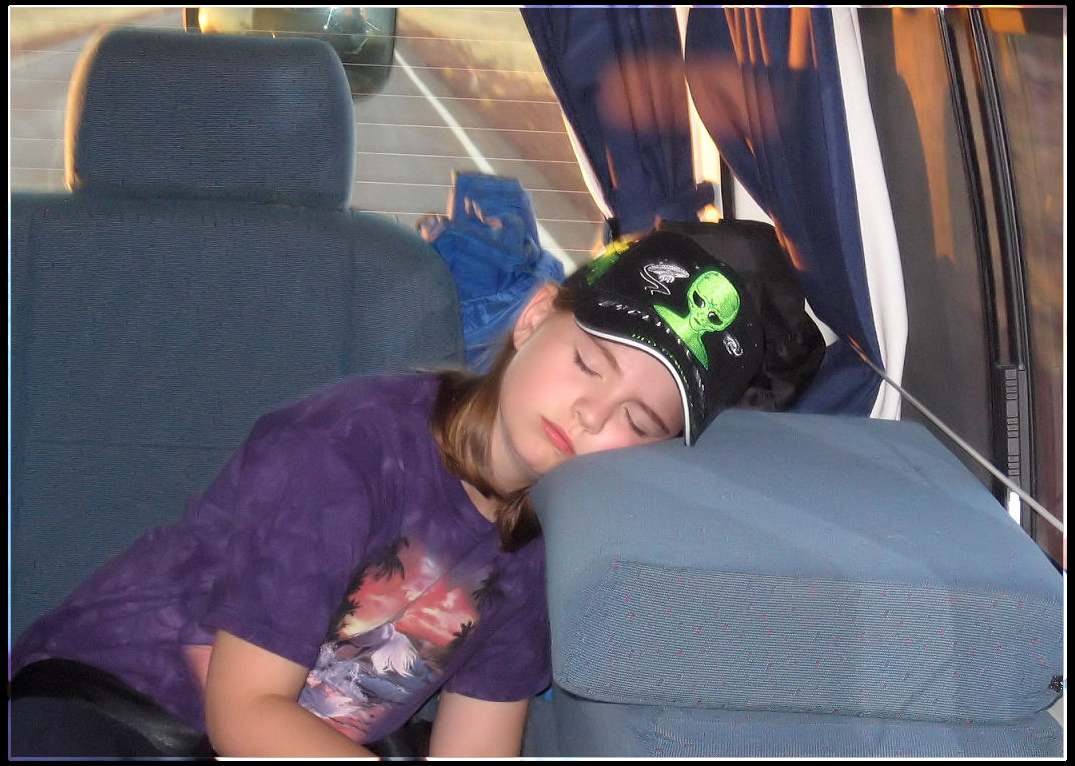 The next day, we drove all the way to Mataranka, known for it's natural hot springs. Anna is excited to see more bunk beds. This one is a triple decker, woo-hoo!! (Unfortunately, she ended up falling off the middle one during the night. It didn't have a guard rail and she woke up to use the toilet and briefly forgot where she was. Ouch.)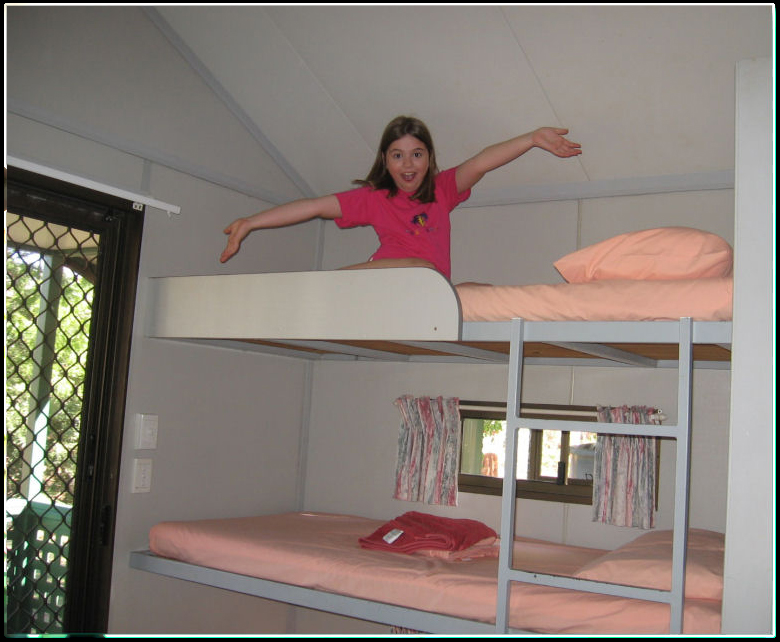 Here's the outside of the cabin and the caravan we drove.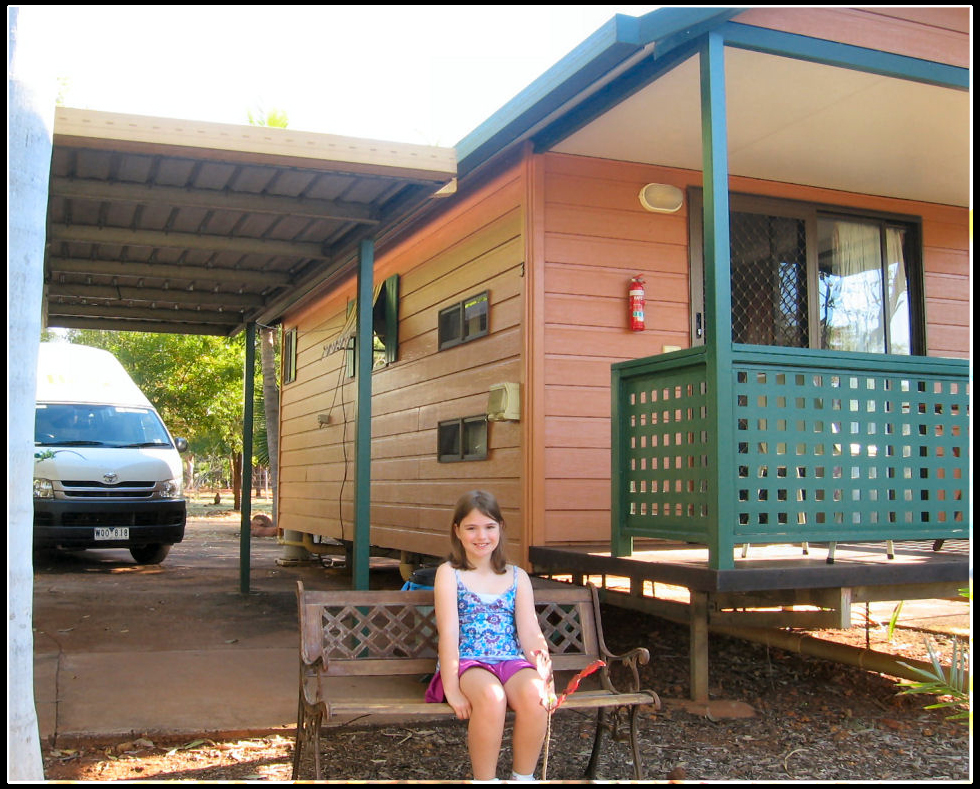 View from the porch. Those rust-colored hill thingies are termite mounds, which are all over Mataranka. There are even bigger ones! Eww.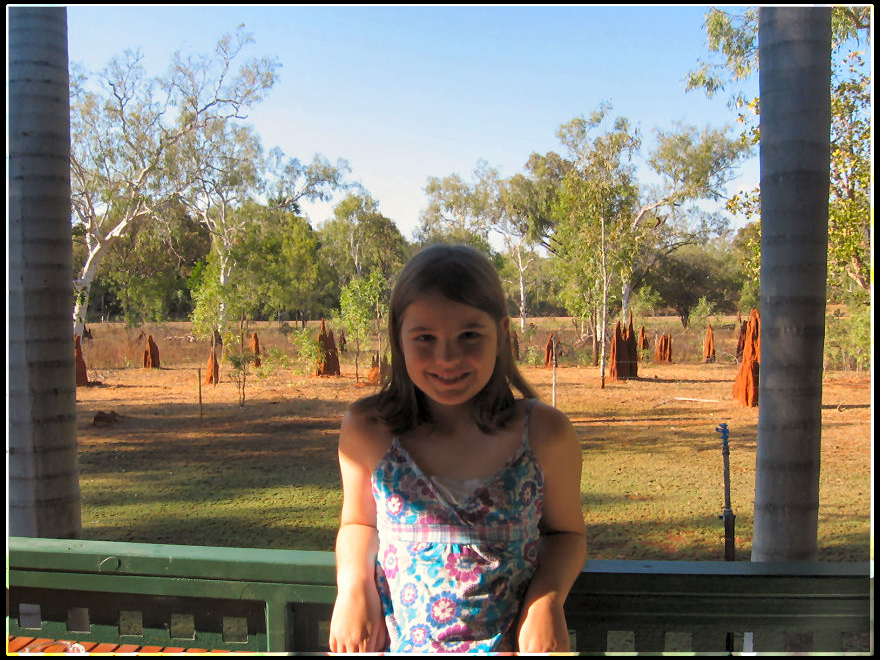 Chad and some old lady waiting for the tour bus to take them to the Yellow Water river cruise.
Here's the Yellow River and the boat we'll be on.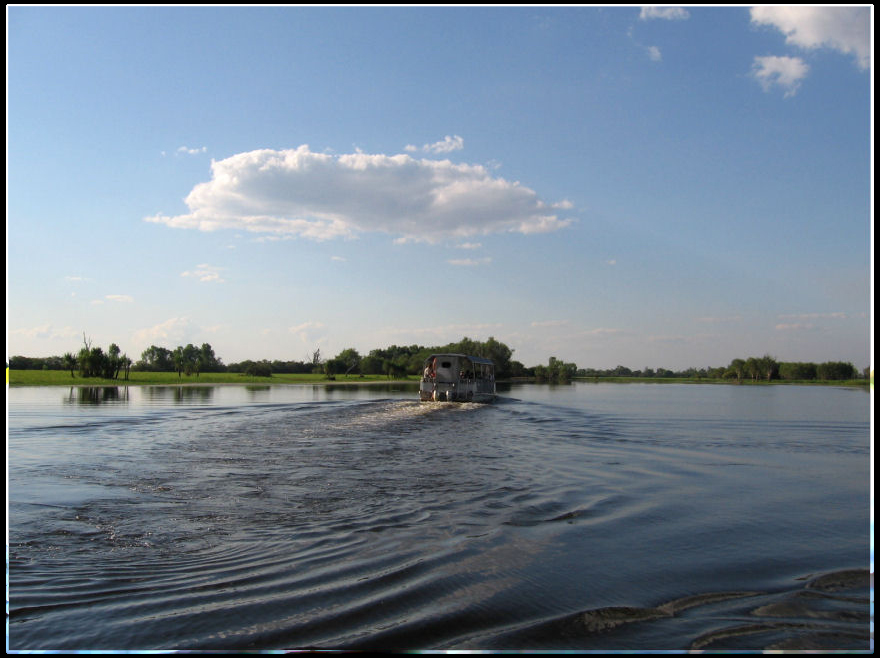 There are lots of unique birds in the wetlands. It was interesting to hear about their behaviors and characteristics. The black and white flamingo-looking ones are called jabirus.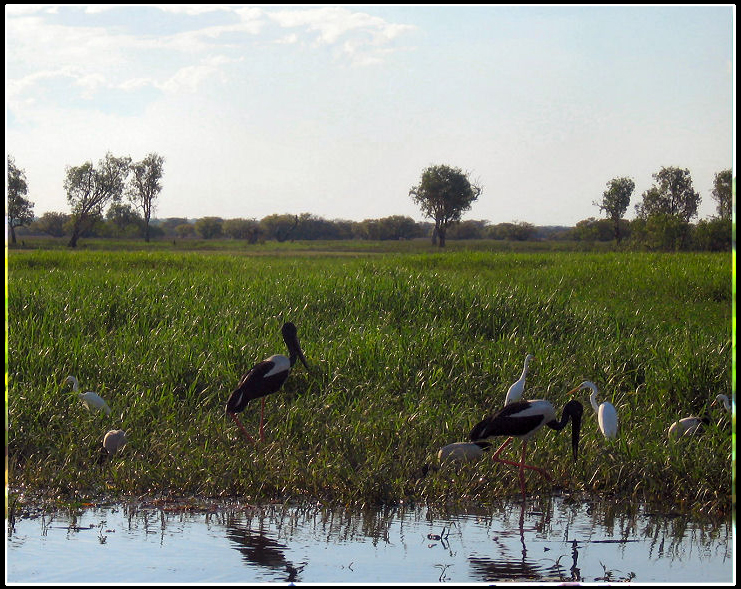 Here is a big jabiru nest. It's hard to imagine them flying up that high, but apparently they do. (I'm assuming the tour guide would have no reason to lie about that, would he?)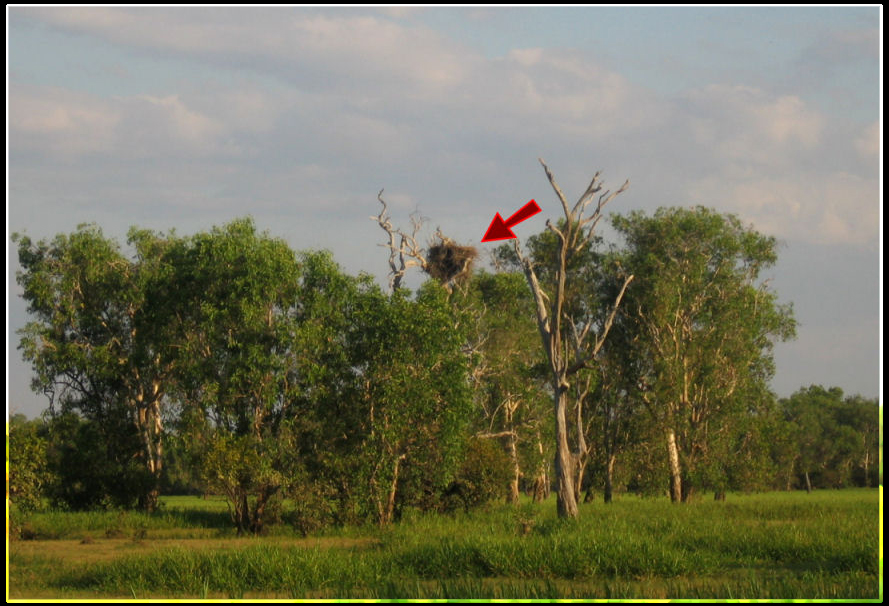 Typical view of the wetlands. No doubt, there are at least a few crocodiles hanging out around here.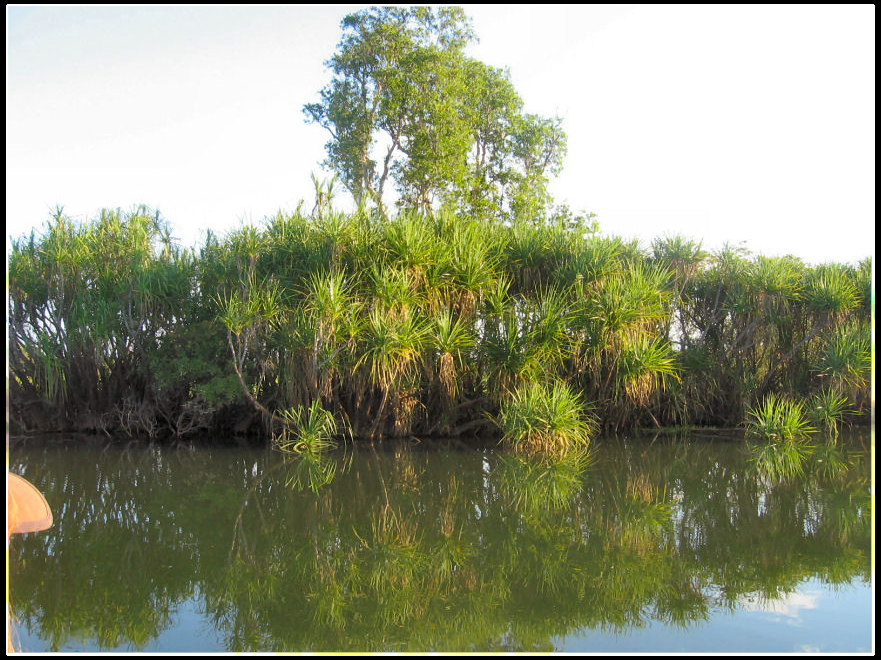 "What? No, don't mind me. I'm just another piece of driftwood... this is a perfectly safe place for you little birdies to rest...
"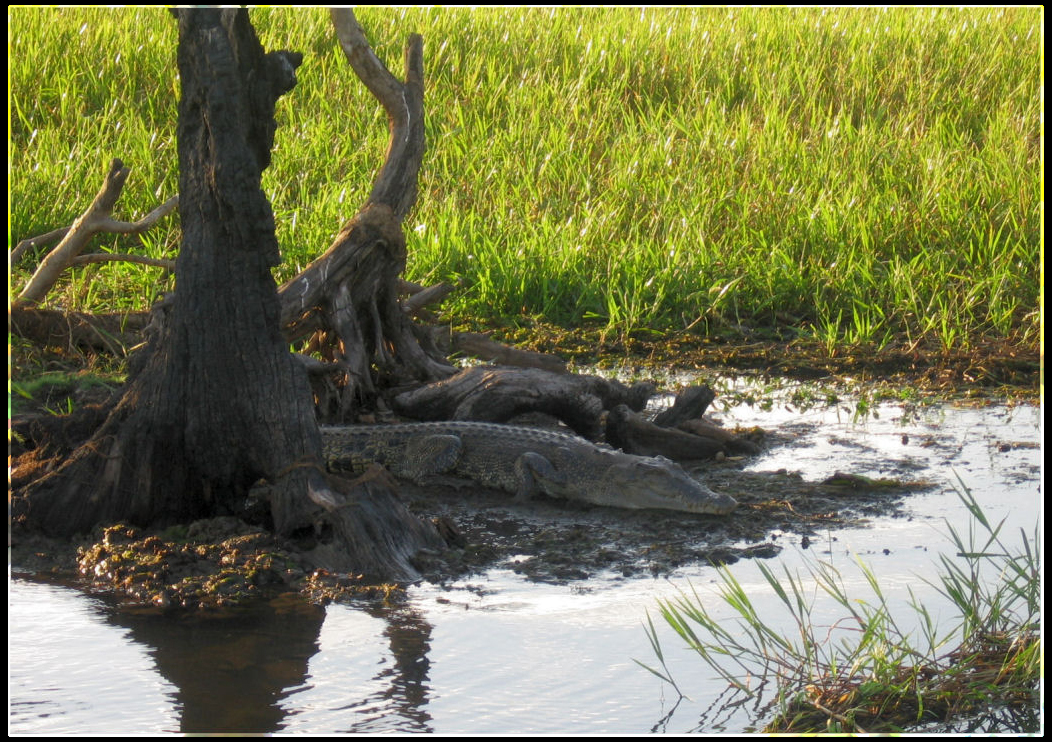 Have you ever seen real lily pads? I didn't realize they were so big! They all turn to face the sun as the sun moves throughout the day.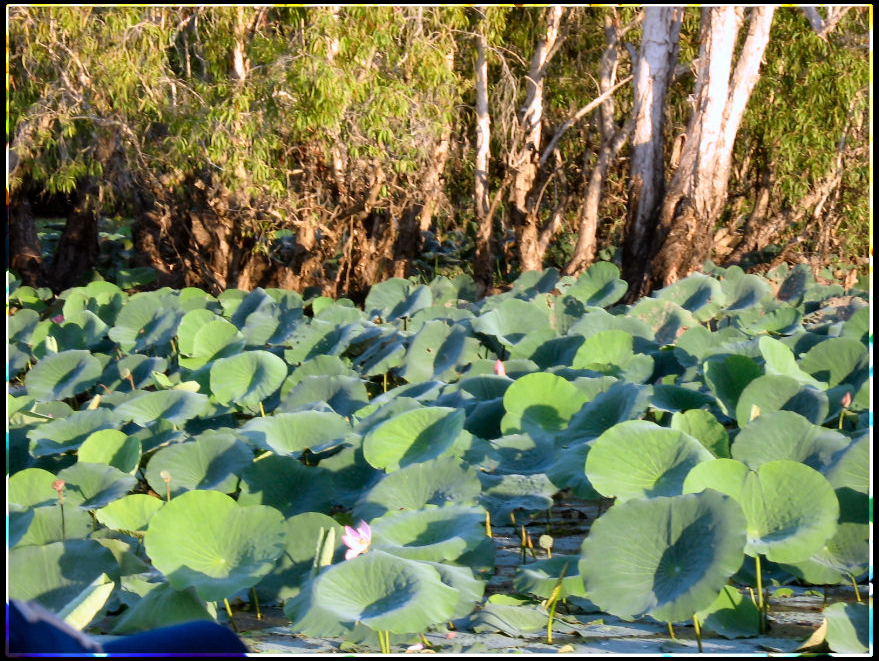 There are heaps of them near the Yellow River. (Excuse me, people, I'm trying to take a photo here... can you move your big heads??)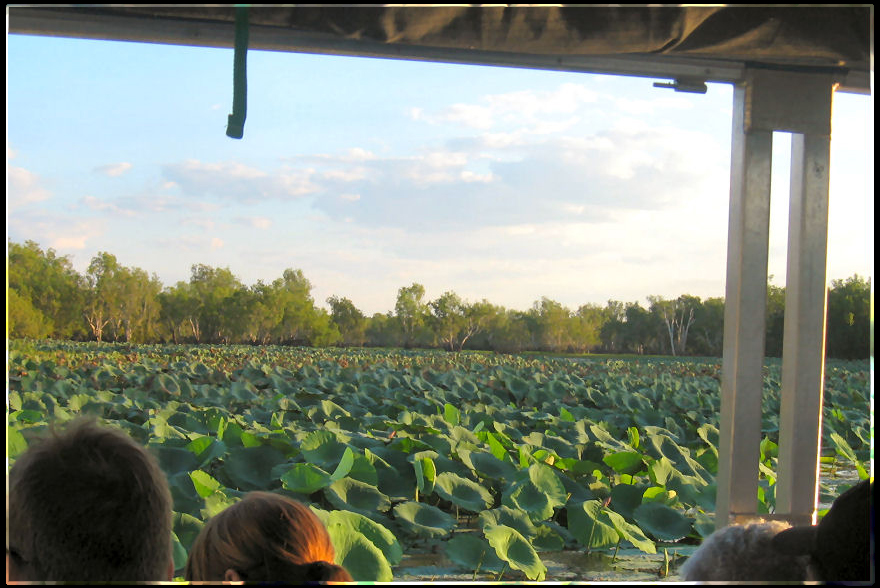 The boat stops at the end of the tour to watch the setting sun. Nice reflection of clouds in the water.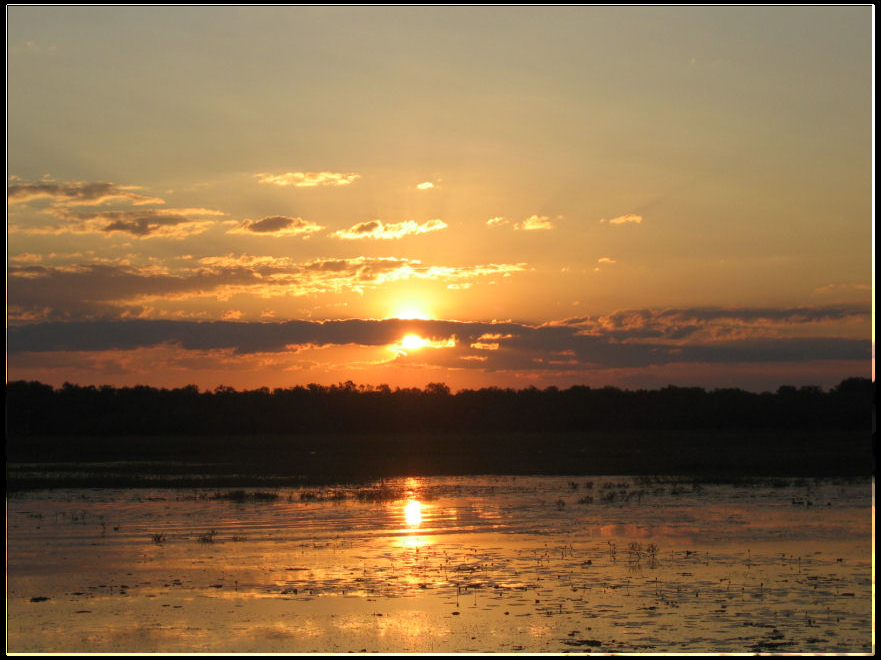 OK, guys... pose for a photo while we're here. Lovely!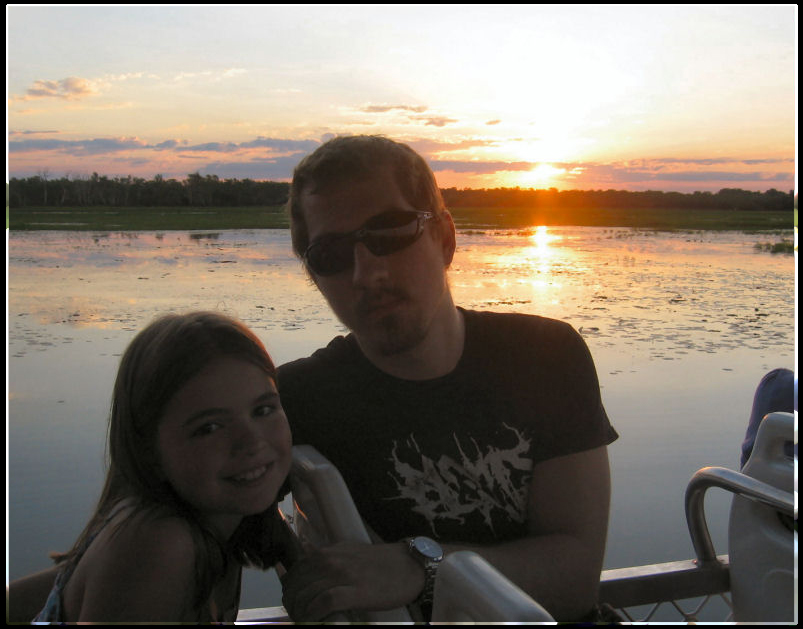 It's turning into a nice sunset. The tour is over, time to head back.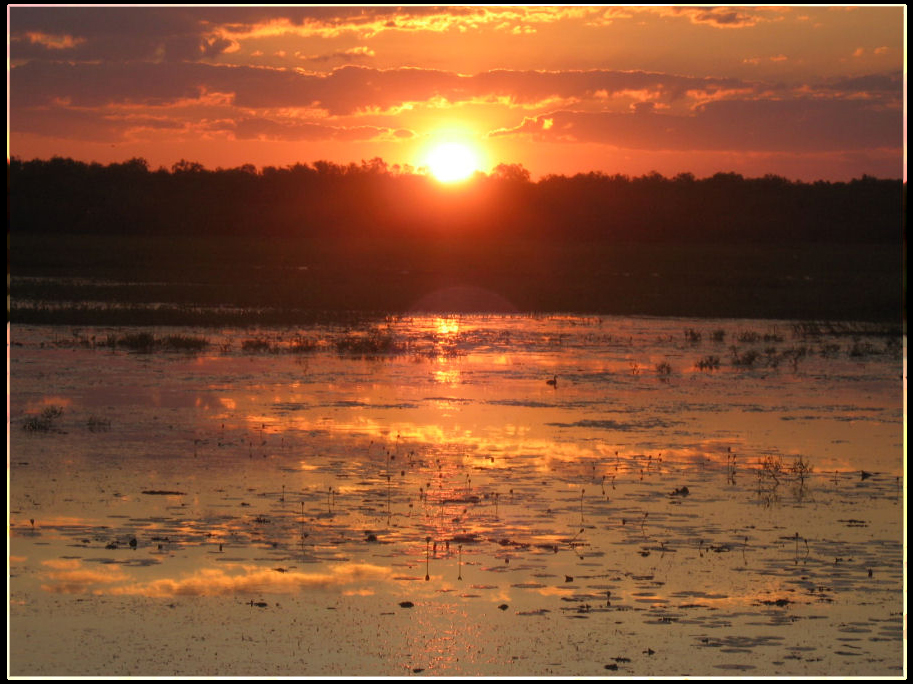 The next day we ventured on to Kakadu National Park and saw several ancient rock paintings. (I say "ancient". I don't really remember how old they are!)
Description...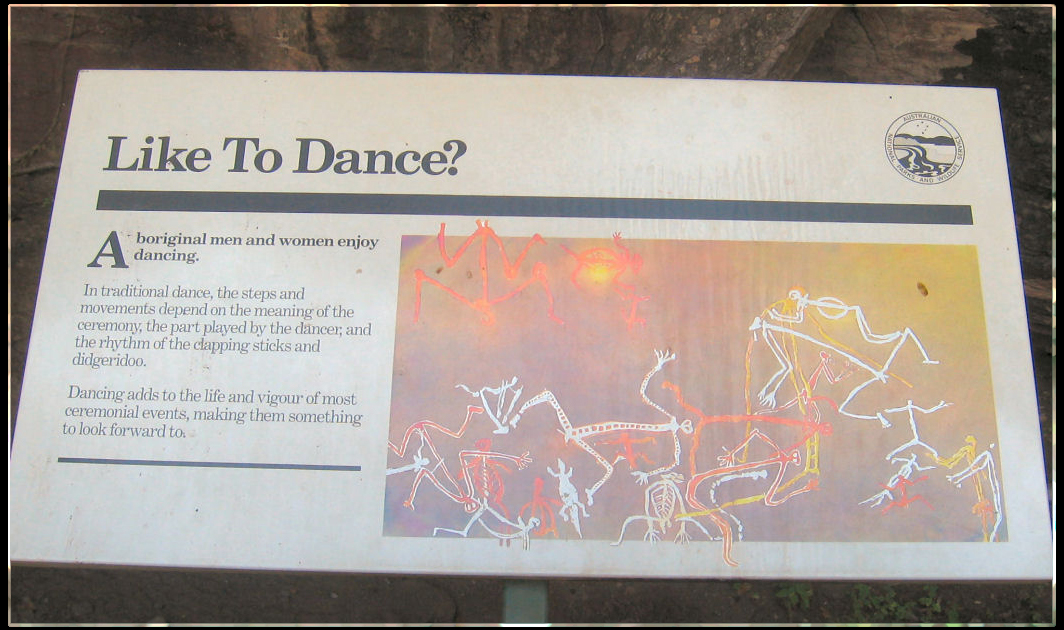 Actual painting...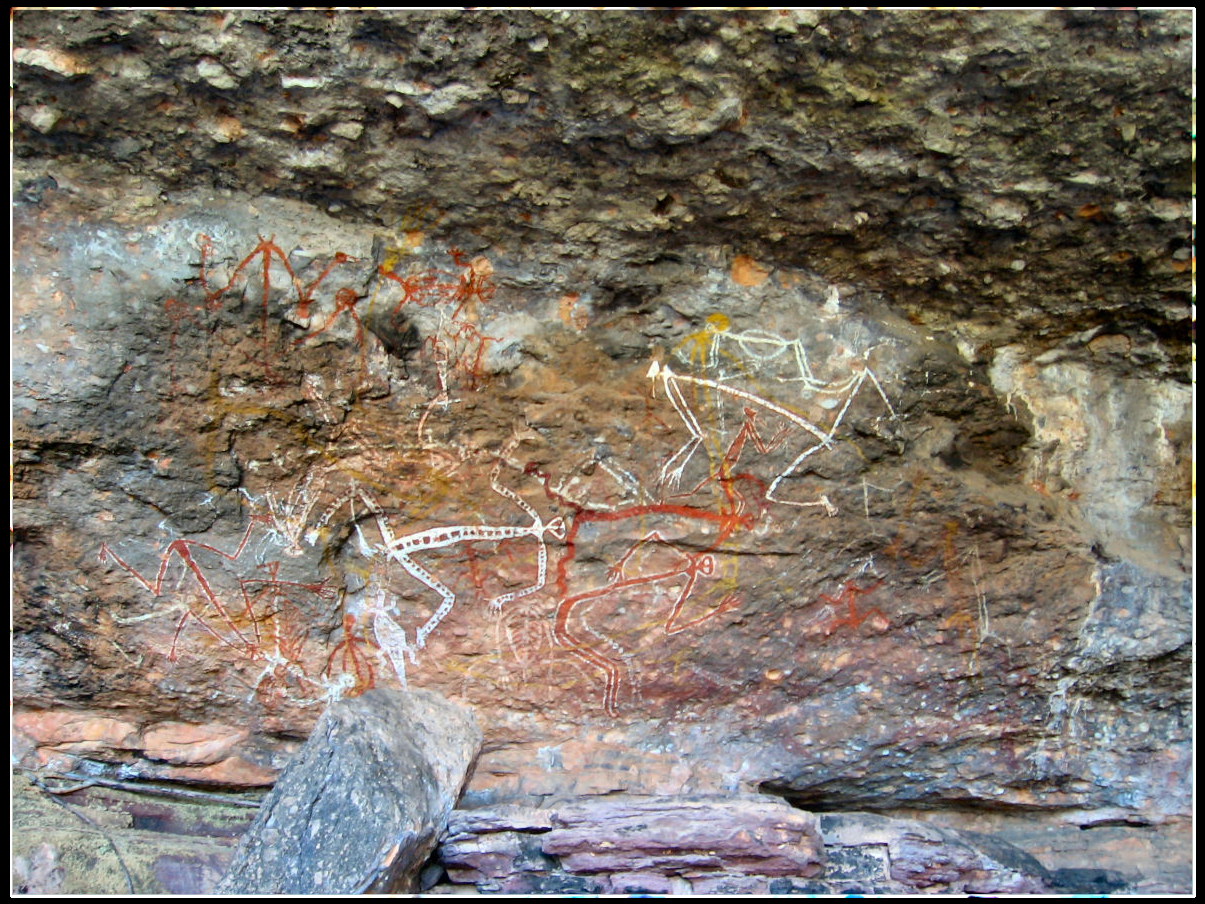 We visited the Warradjan Cultural Center, which had a lot of fascinating displays. Unfortunately, we weren't allowed to take any photos in there. They have a replica of a huge wall of rock paintings (that actually exists somewhere). There was a big long aboriginal name for it. Reading the translation of the name cracked us up... it was "biggest mob of paintings", ha!
This is not the biggest mob of paintings, by any means, but it is another rock painting, as you can probably guess.
Anna suggested this one be called "A big, fat dude jumping over a bunch of little skinny dudes". Hmmm... that might work.
Some beautiful scenery in Kakadu. Hey, Chad's shirt resembles some rock painting of Heath Ledger as the Joker! Good choice of clothing for today, eh?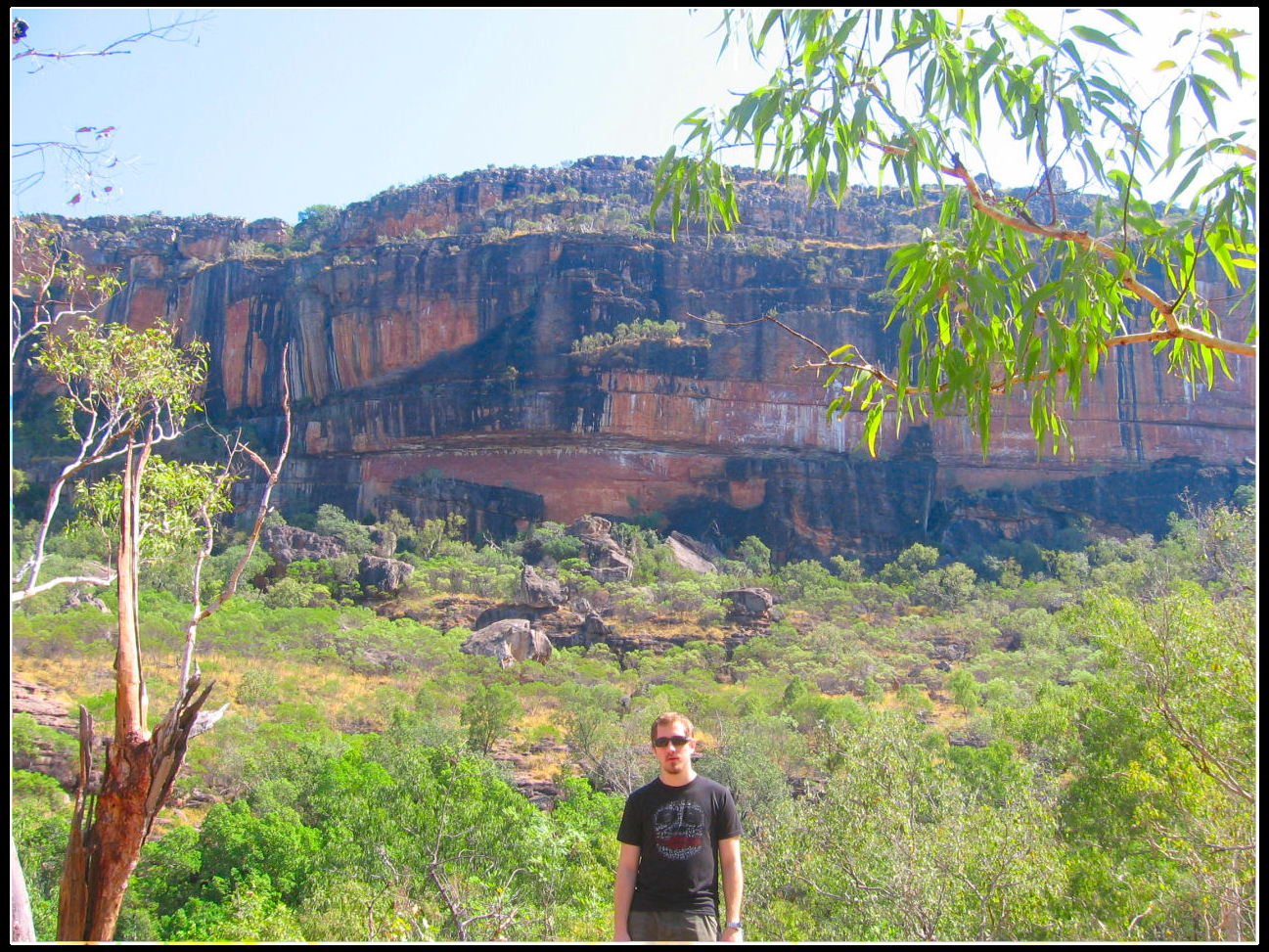 Another magnificent view.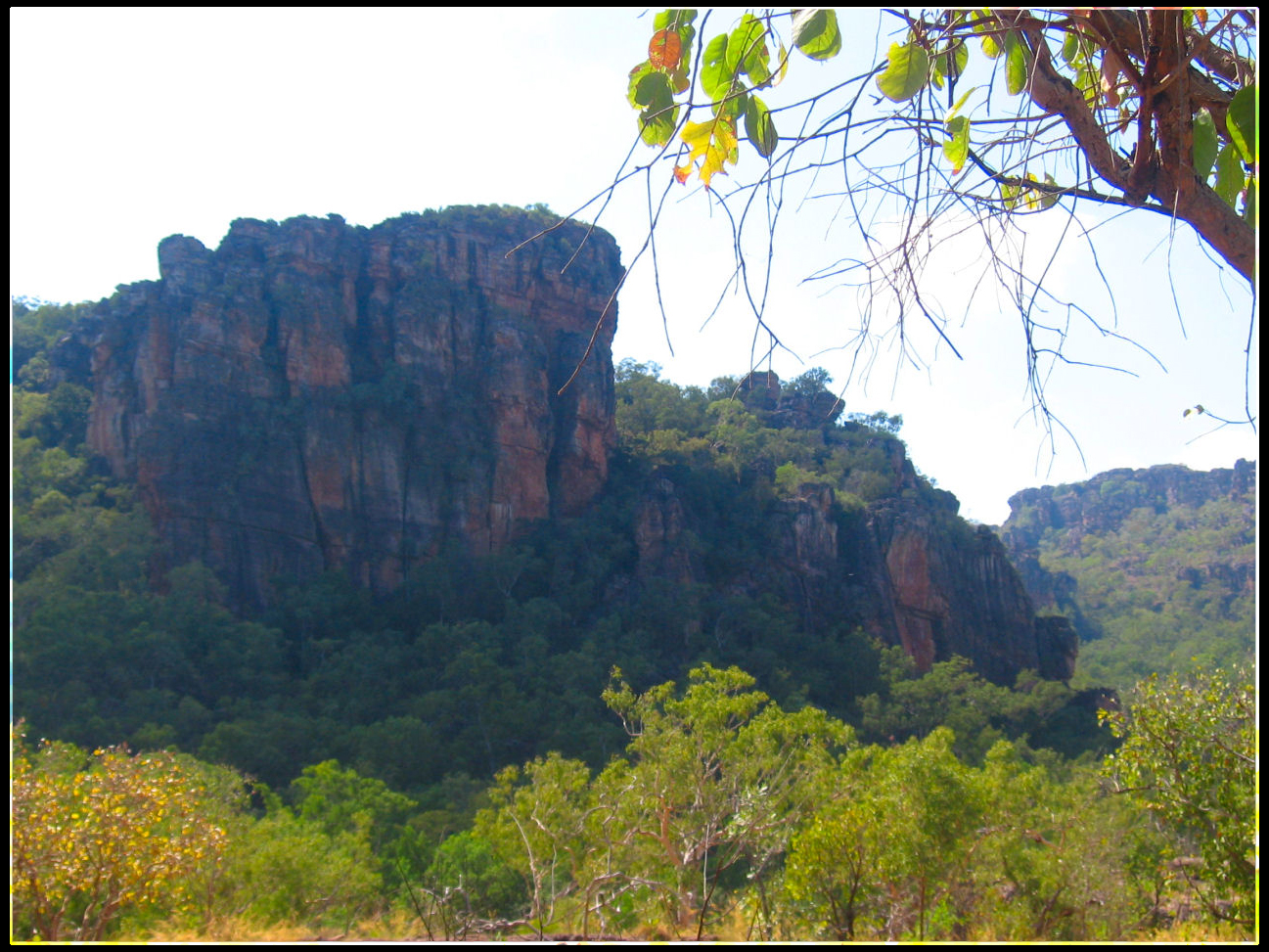 It was a really bright, hot day.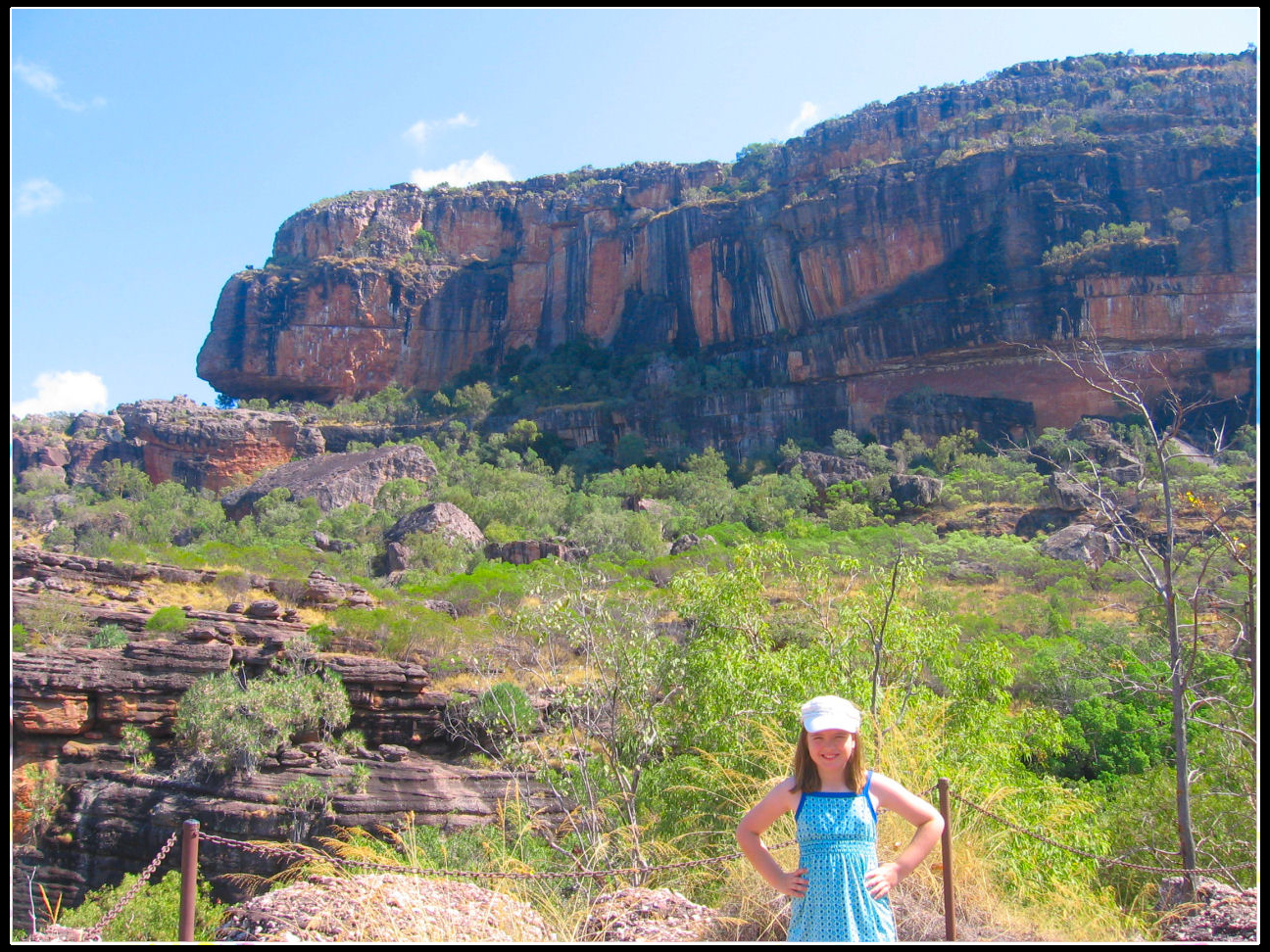 "Did I mention I'm not really into scenery, especially if you have to hike for 30 minutes to see it?"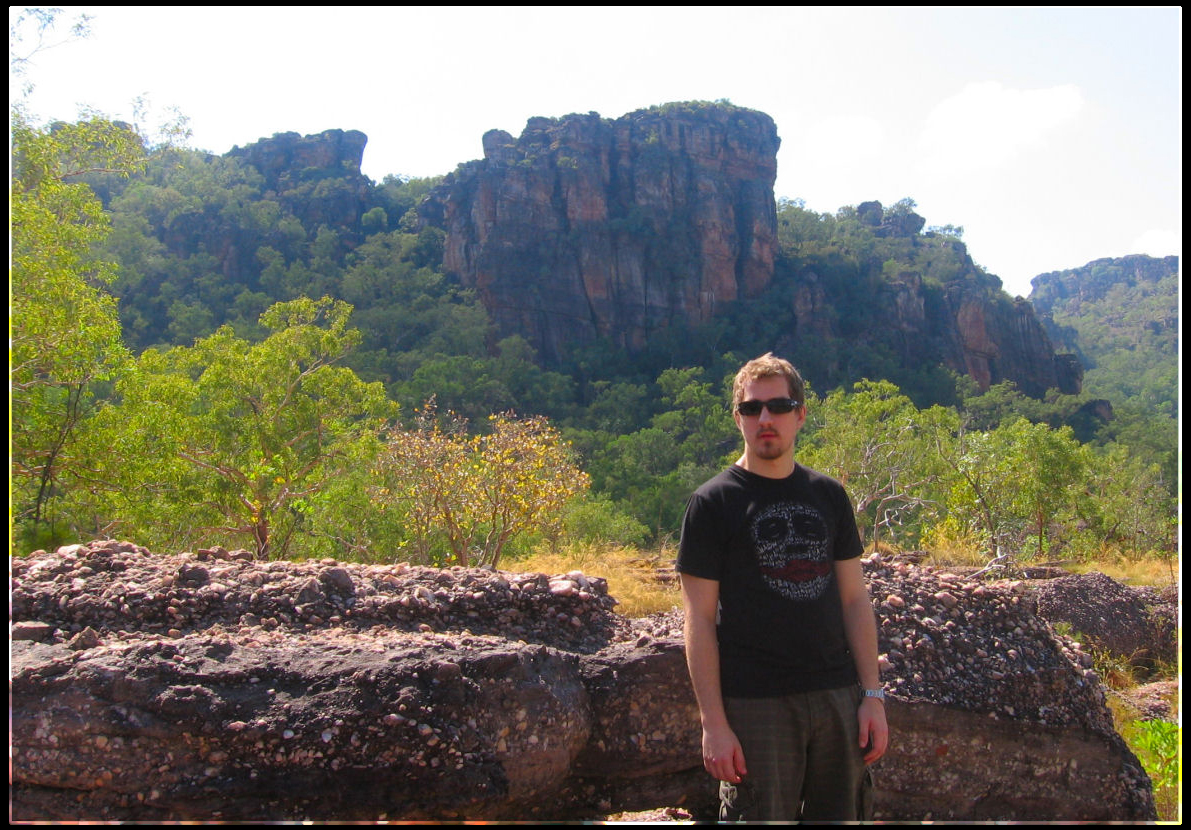 On to Darwin, the capital of the Northern Territory, population about 120,000. Note there are no towns nearly as big as Alice (28,000) in the 1,000 miles we've driven. It makes the drive from Dallas to Amarillo look like rush hour in New York City! Anna wasn't overly impressed straight away, though. When we got there, she said "We drove all this way to come HERE? Is this where we're going?"
We went to the Mindil Beach Sunset Market shortly after arriving in Darwin, which we all enjoyed. It's "on" every Sunday and Thursday evenings.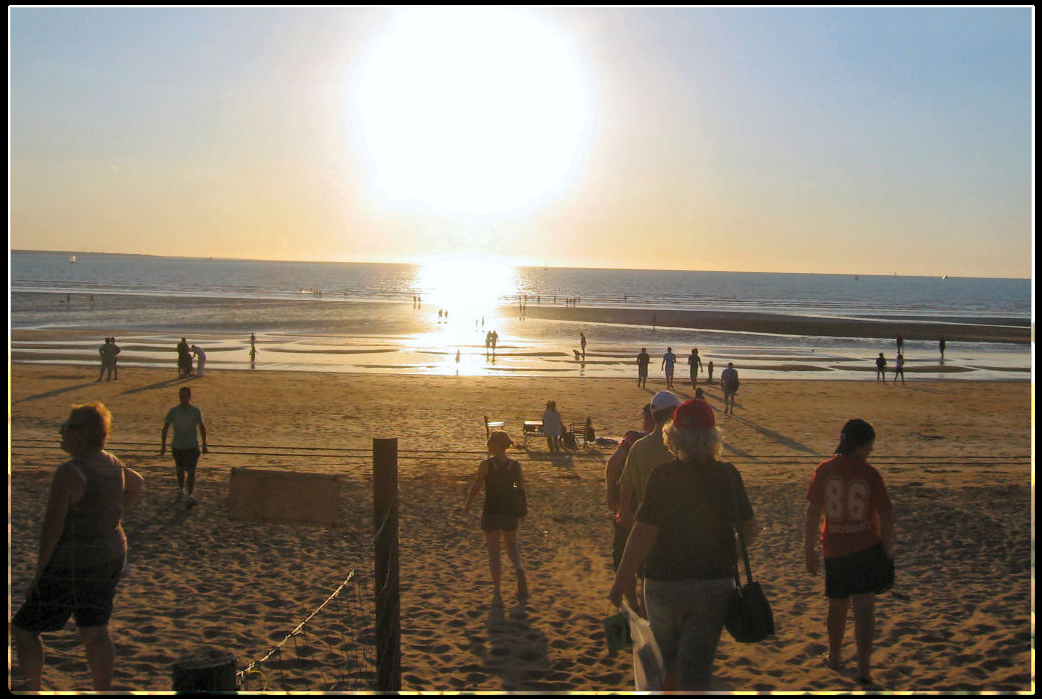 It's a nice little market offering shops and entertainment. This little boy (2nd from left) was 11 years old and played some pretty good jazz trumpet.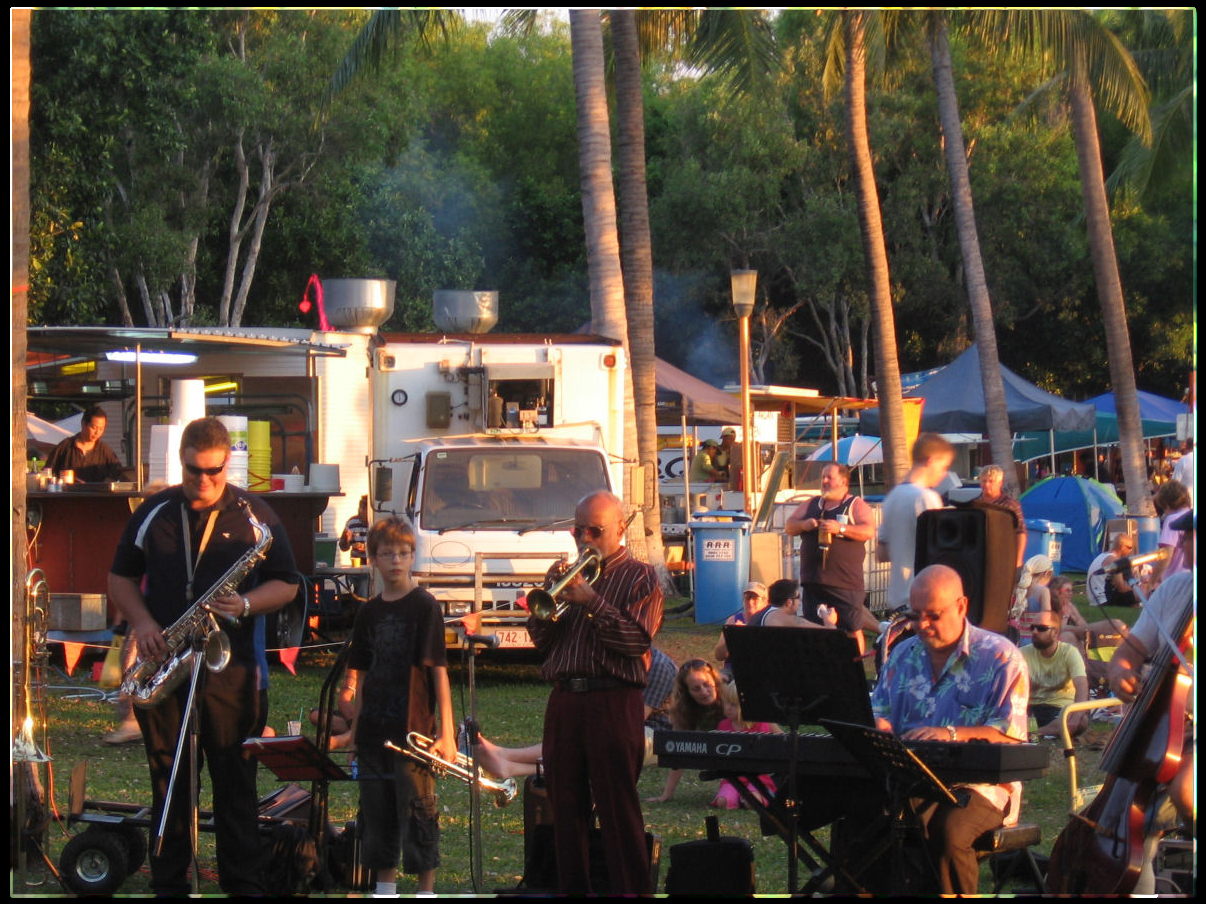 The idea is to enjoy the market, then get some good food and wine (if you're so inclined), grab a seat on the beach and enjoy the sunset. A very Aussie kind of evening! Of course, beaches in the Alice are at least 1,000 miles wide, ha! (If you don't get that, never mind.)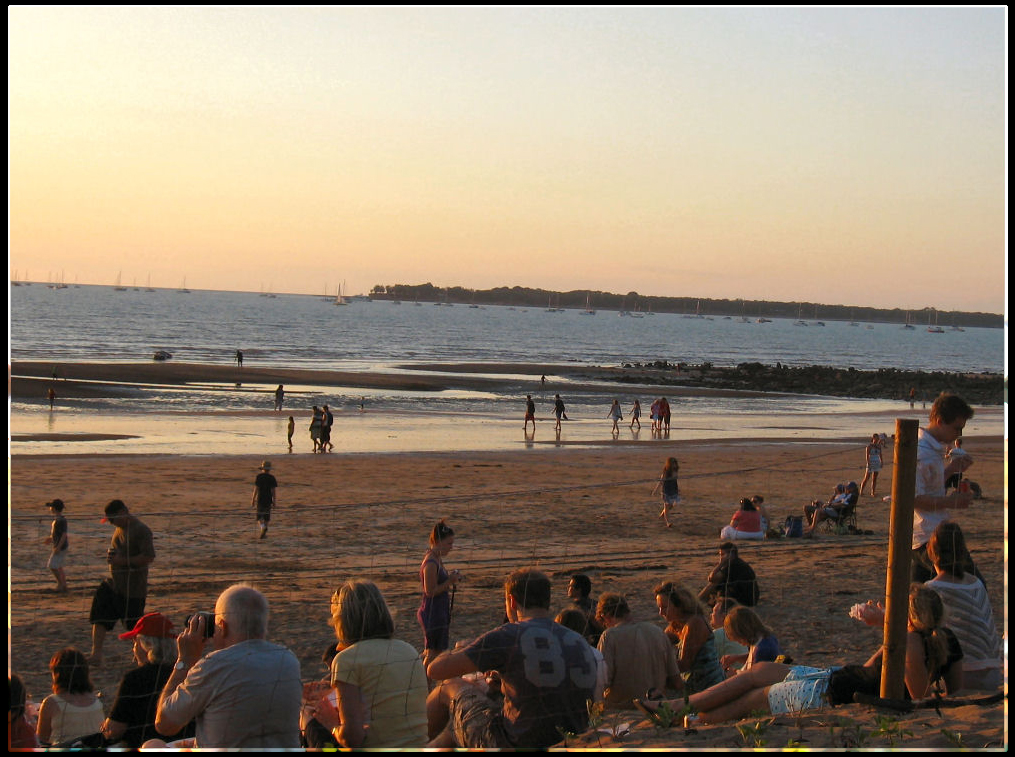 Now, that's what I'm talkin' 'bout! A lovely evening.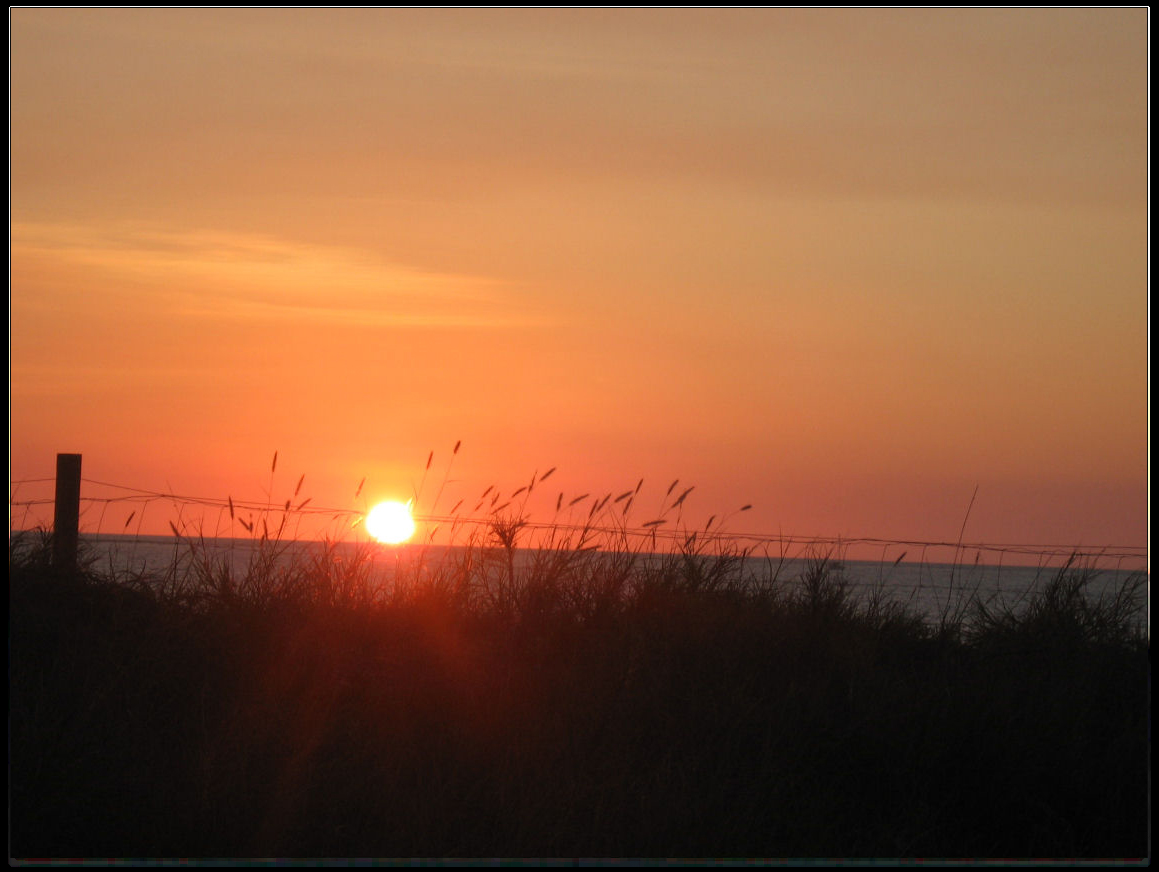 A really interesting attraction in Darwin is the Crocodylus Park with it's beautiful, tropical landscaping at the front.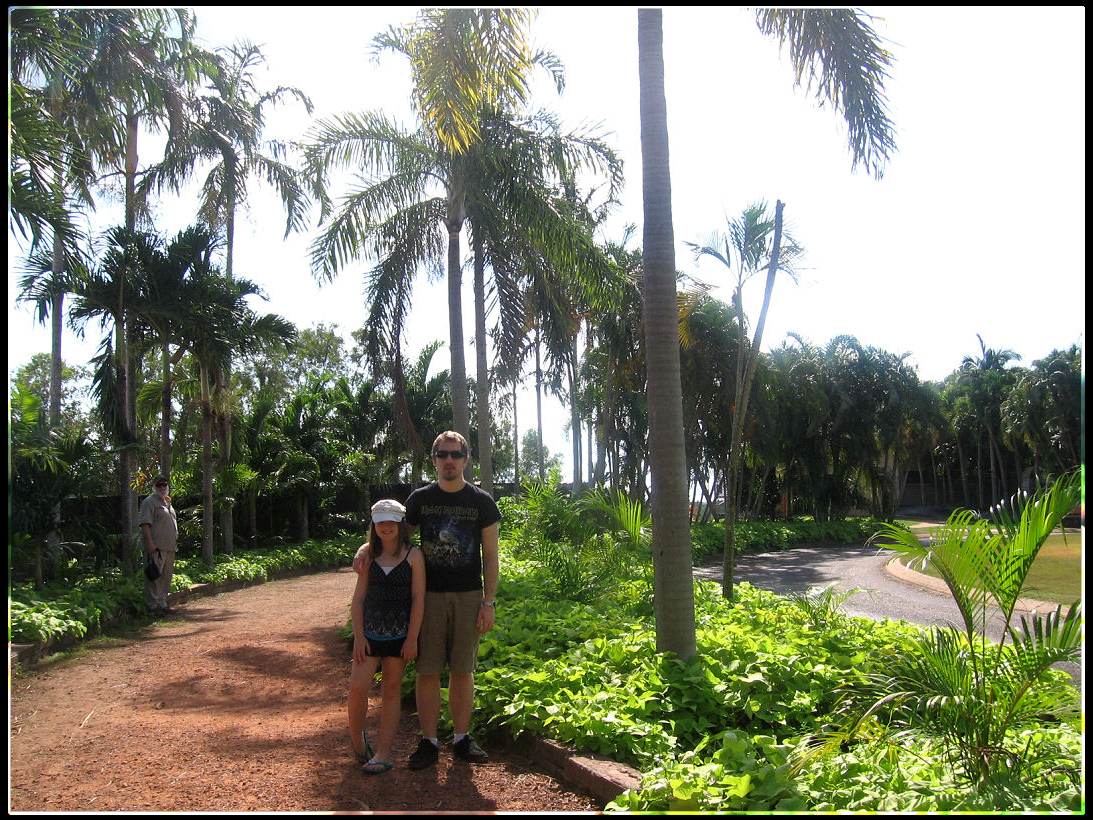 It's a crocodile education and research center that may not sound that appealing, but it was really interesting to learn about these prehistoric creatures. They have changed very little over the centuries. Notice this strategy of just keeping her mouth open and waiting for some unsuspecting critter to walk in (or at least near). They can be so still, then move lightening-fast when the time is right. SNAP!!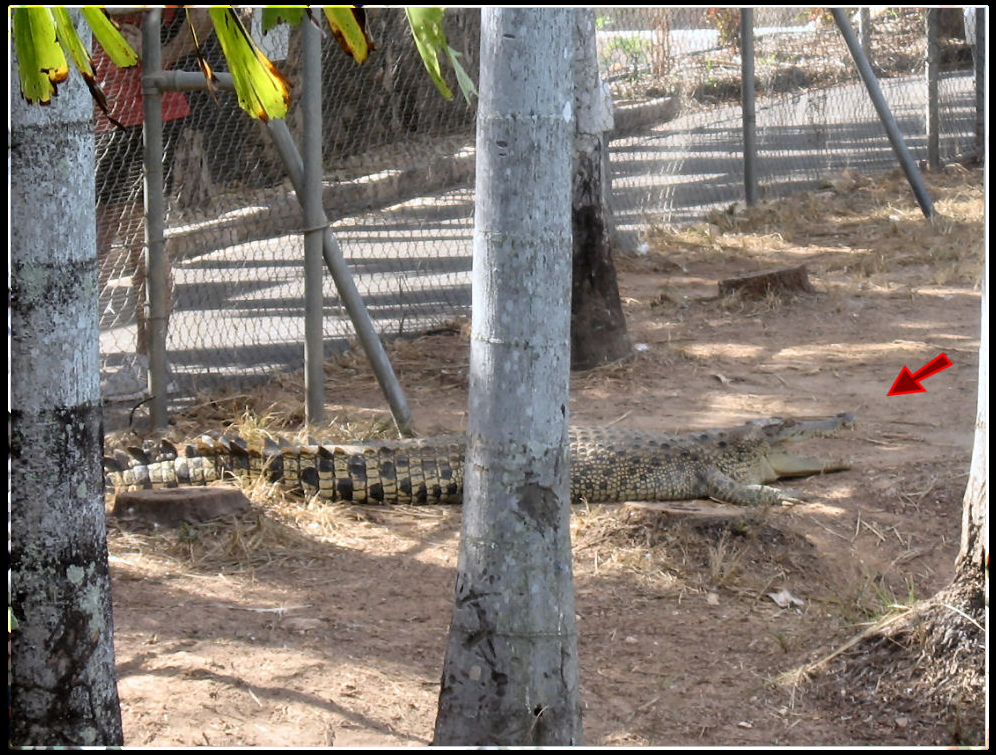 This is one of 30 "girls" who share this lagoon. They couldn't keep adult males this way, as they are very territorial and would kill each other. They had some demonstrations by a very entertaining and knowledgeable guide. There is a pulley that goes across this lagoon and they put some chicken meat on it and reel it out above the water. The guide talks about the hierarchy of the crocs and points out some behaviors, such as several circling around and starting to go for the meat. Certain ones will then get a signal to back off and will quickly swim away. Eventually, one of the "bosses" will jump for it. The guide was funny. He said, "Ah, you greedy pigs. I don't care if you all miss out!" He said they are actually overfed. The only way the weaker ones can ever get any food is when the dominant ones are full.
We did see plenty of the big 4 meter long males (that's over 13 feet!) and learned a lot about them, too. We didn't get any photos - I guess we were too busy taking video. Anyway, suffice to say you don't want to come across one of these guys without a fence between you! The Guide talked about people breaking his poor Auntie's heart by swimming in water holes and getting injured or killed by crocs. She tries to educate people about crocs and they just won't listen! He imitated some goofball saying "Ah, this water looks OK. I don't think there would be any crocs in here. Let's have a swim." That's a stupid thing to do in the Top End of Australia. You can't always see a crocodile until it's literally in your face!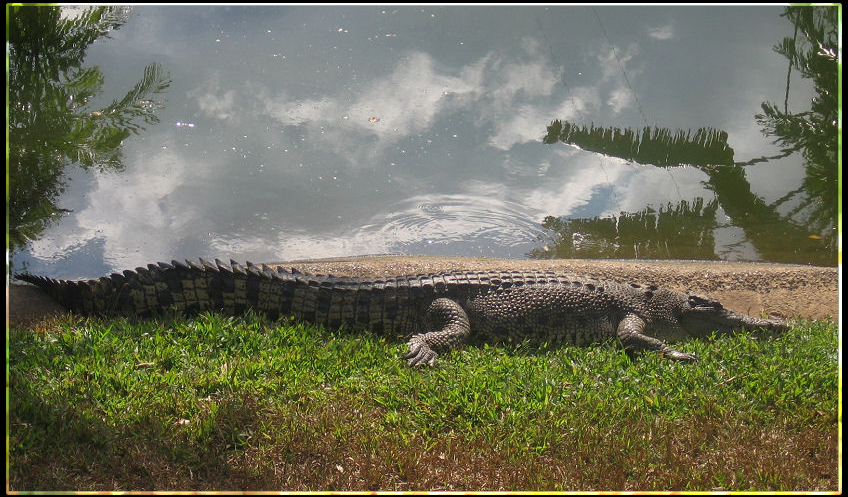 They can keep the younger ones in big groups. I think these were about 2 years old, around 4-5 feet long. It was funny to watch them sleeping on top of each other. When one wakes up, he might step on someone else's head to get past, even pushing another one's head under water! Check out the one trying that open-mouth hunting technique. Buddy, you're dreaming if you think some tasty little morsel is going to get past all those other crocs and casually walk into your mouth!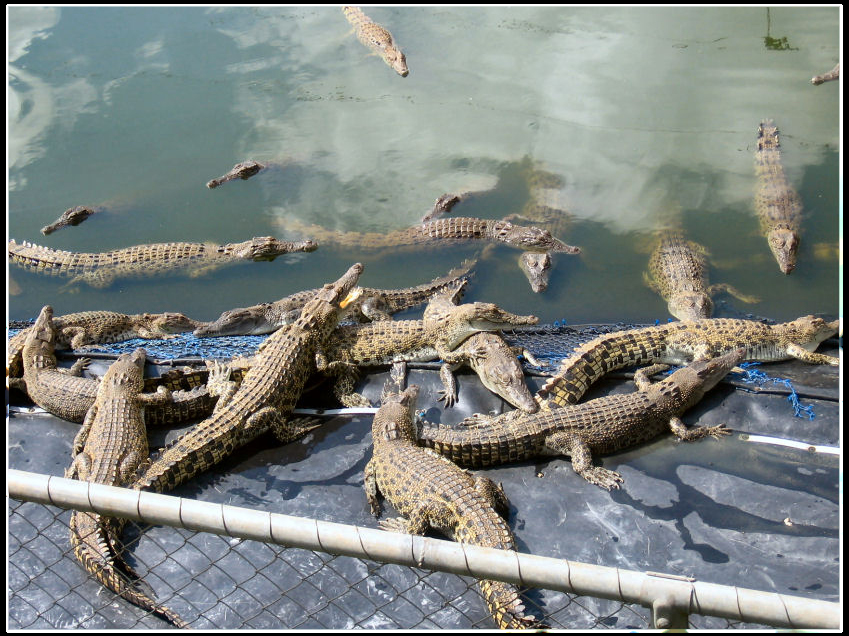 We thought this tree was pretty, but have no idea what it is. Anna needed to get a photo of Blue Bear and Bella on their visit to Darwin. (These were gifts from Grandma on two separate Christmases a few years ago and they have traveled to many, many places with Anna.) She seemed a bit embarrassed when we took the photo this time, so we'll see if she wants to continue it as she gets older. (She might take them on the trips, but only take their photos inside.)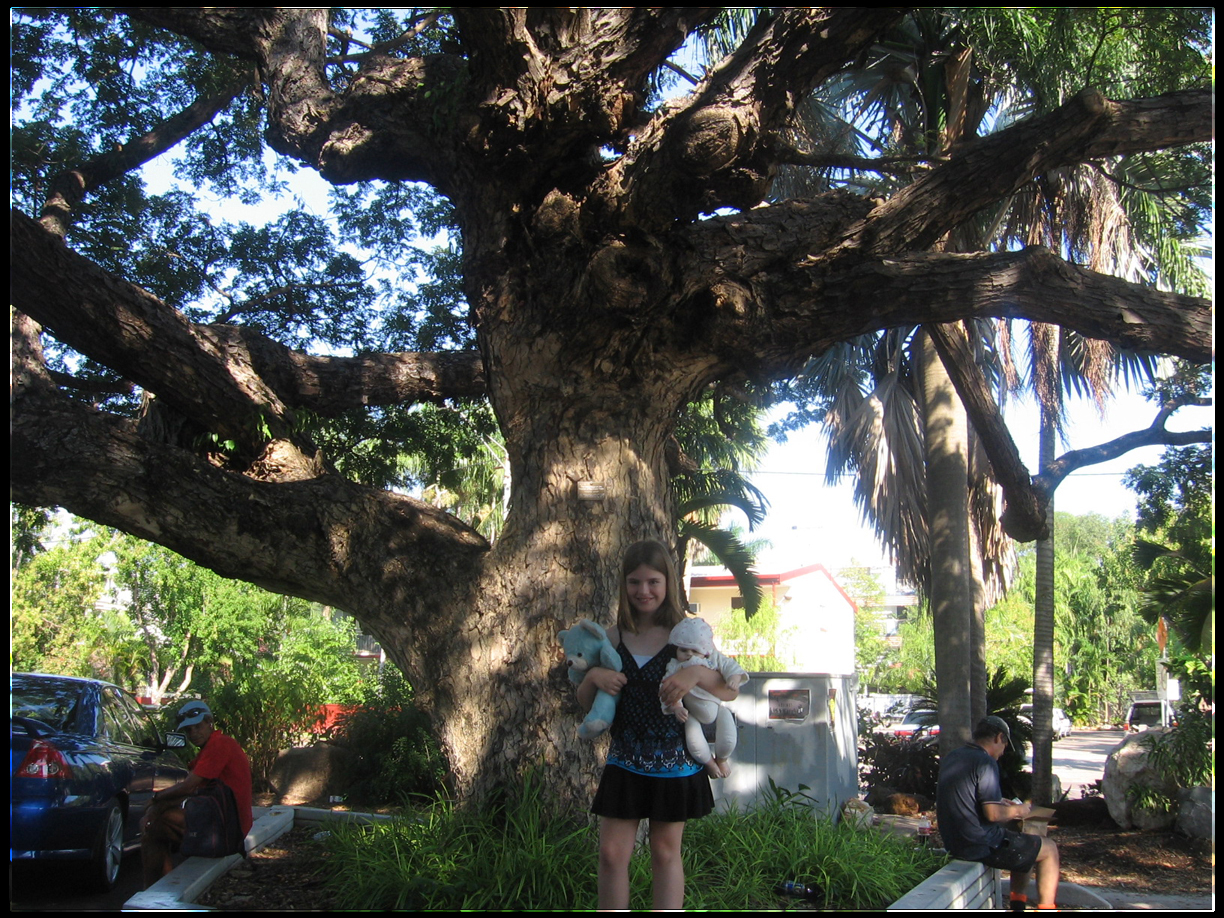 After leaving Darwin, we headed down to Litchfield Park. This is called Wangi Falls. (It is one of the few swimming places certified to have no crocodiles!)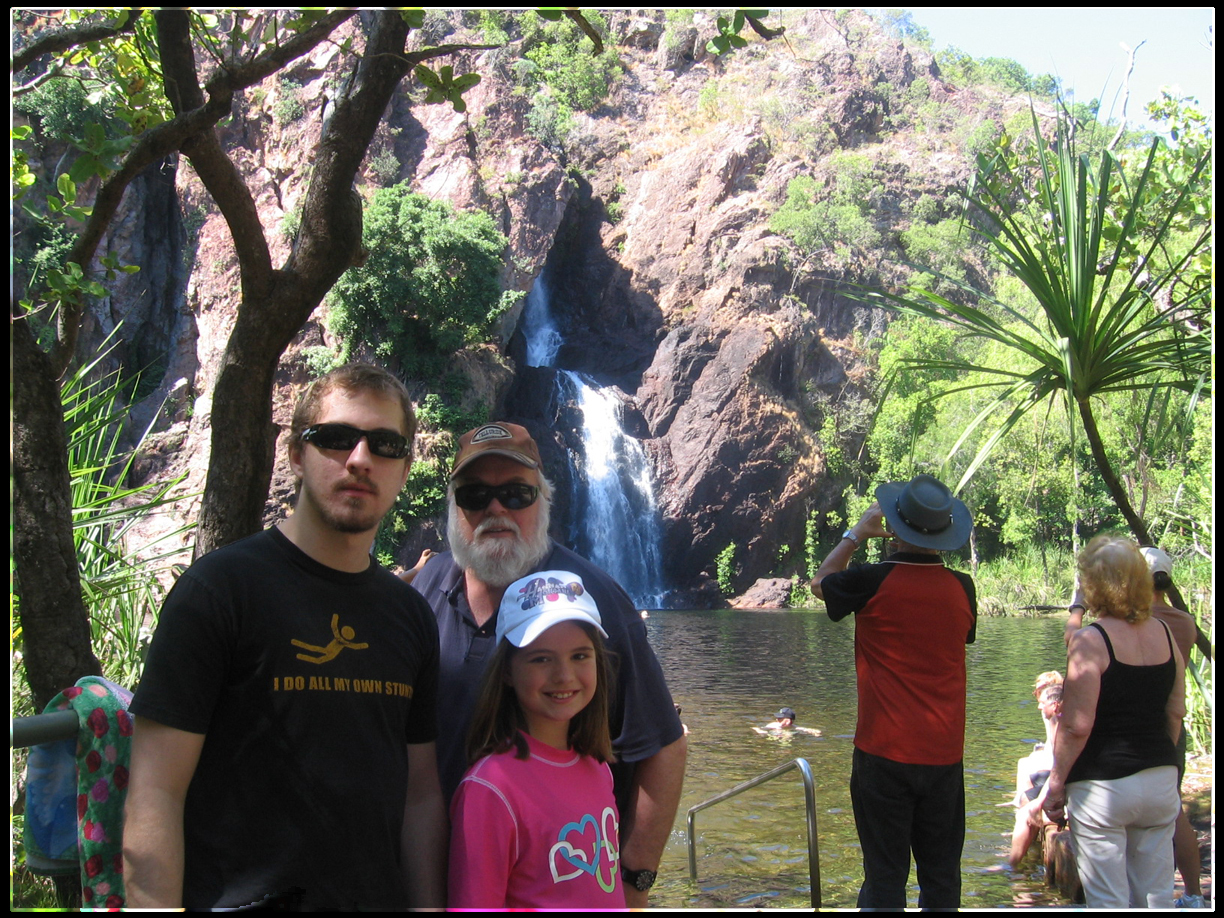 Beautiful waterfalls, eh?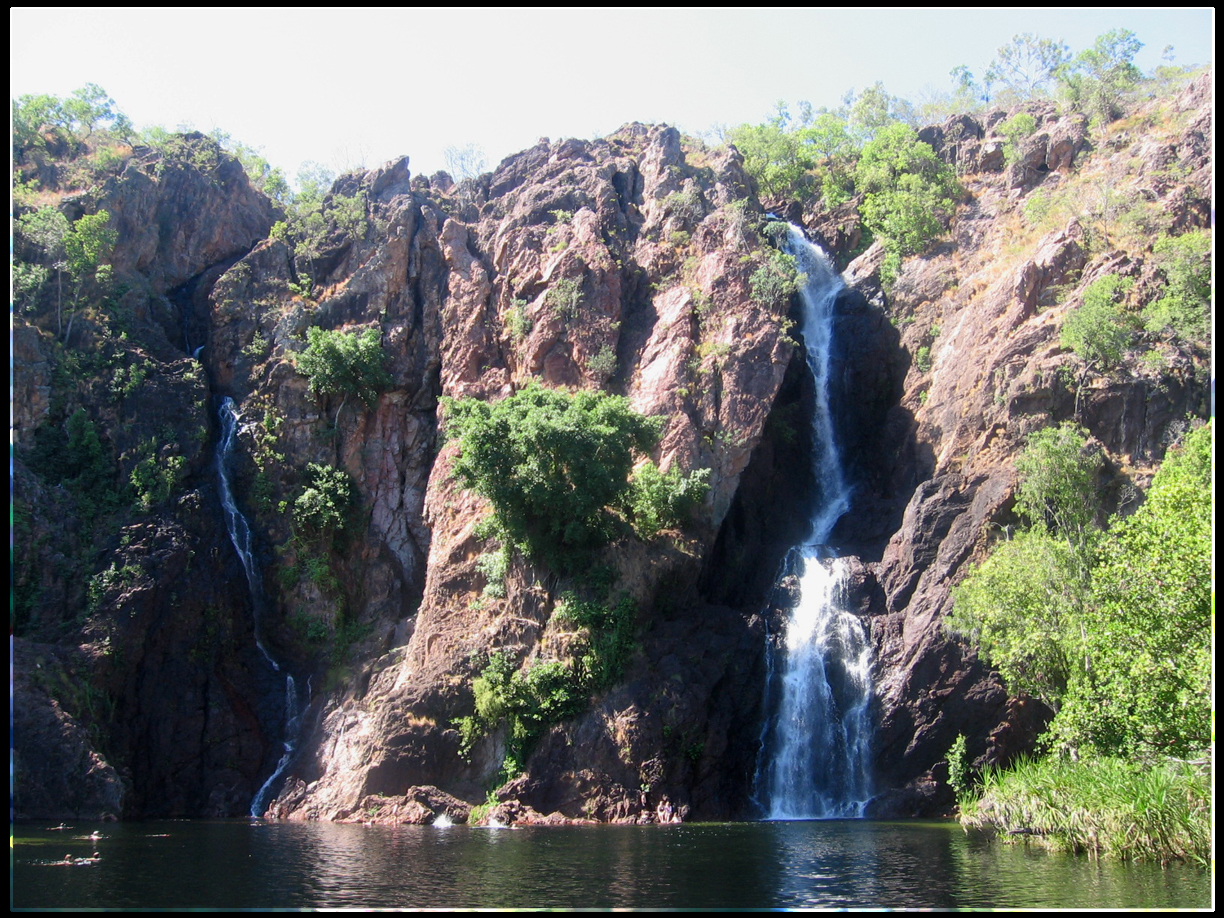 Look how big the waterfall is compared to the people at the bottom.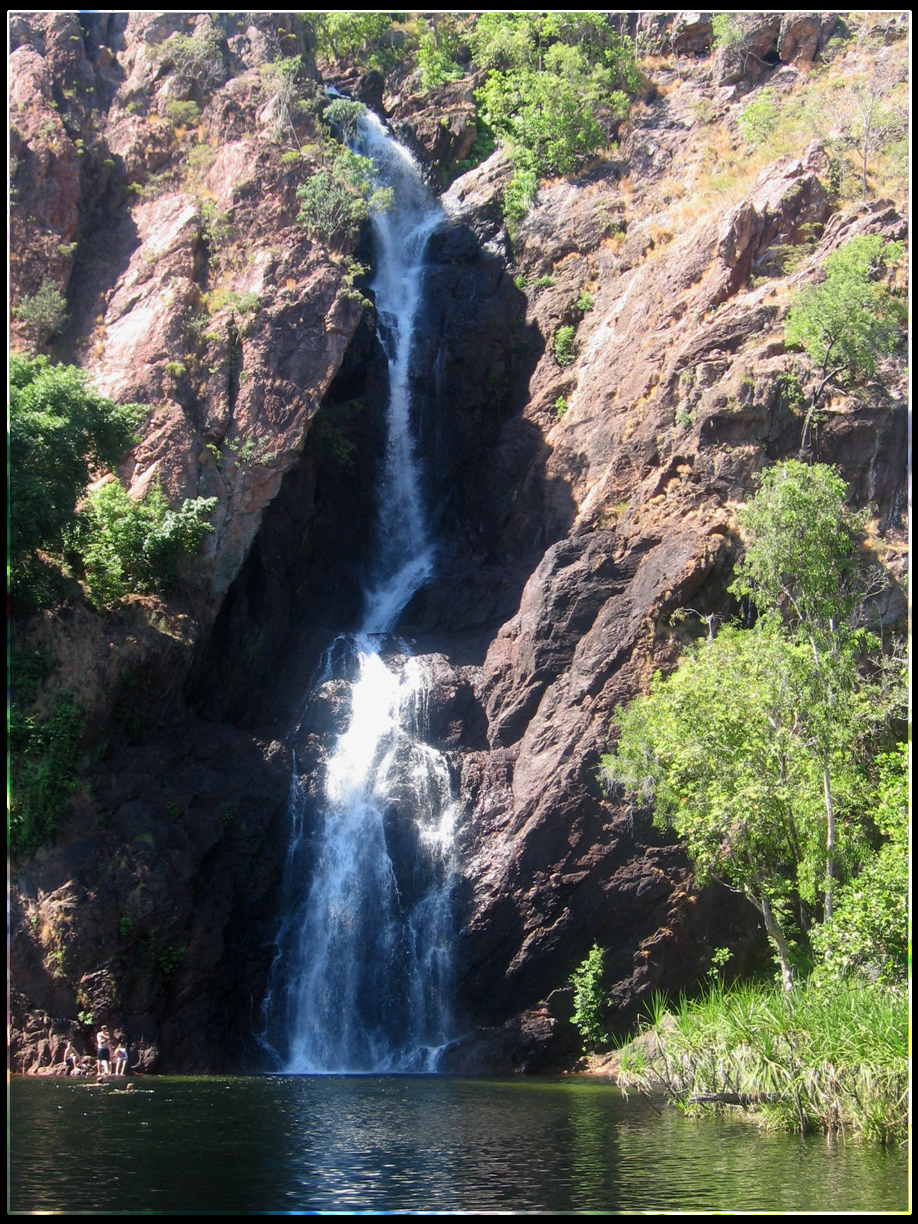 Anna and Dan loved swimming here. It's warm spring water with a soft sandy bottom.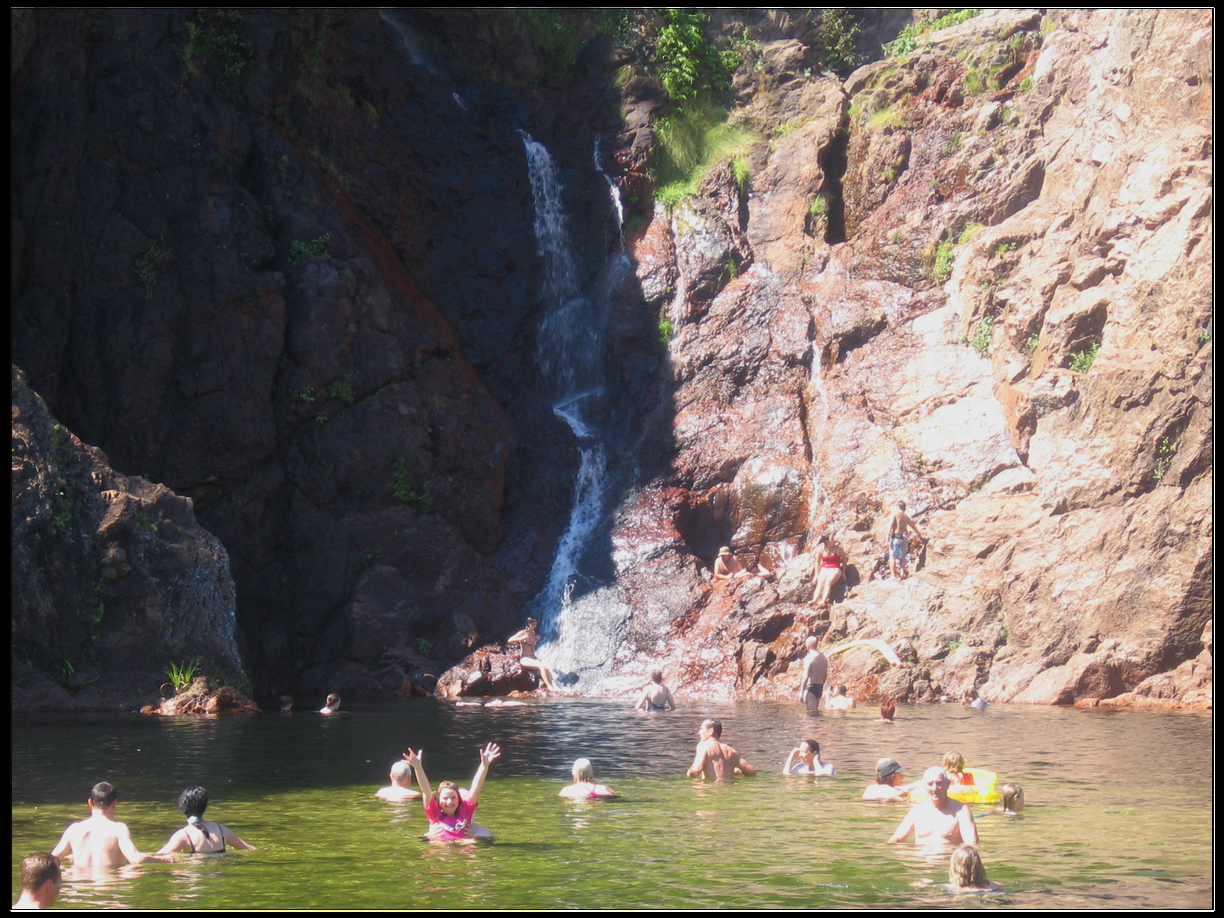 This is an interesting and definitely unique roadhouse in the town of Daly Waters.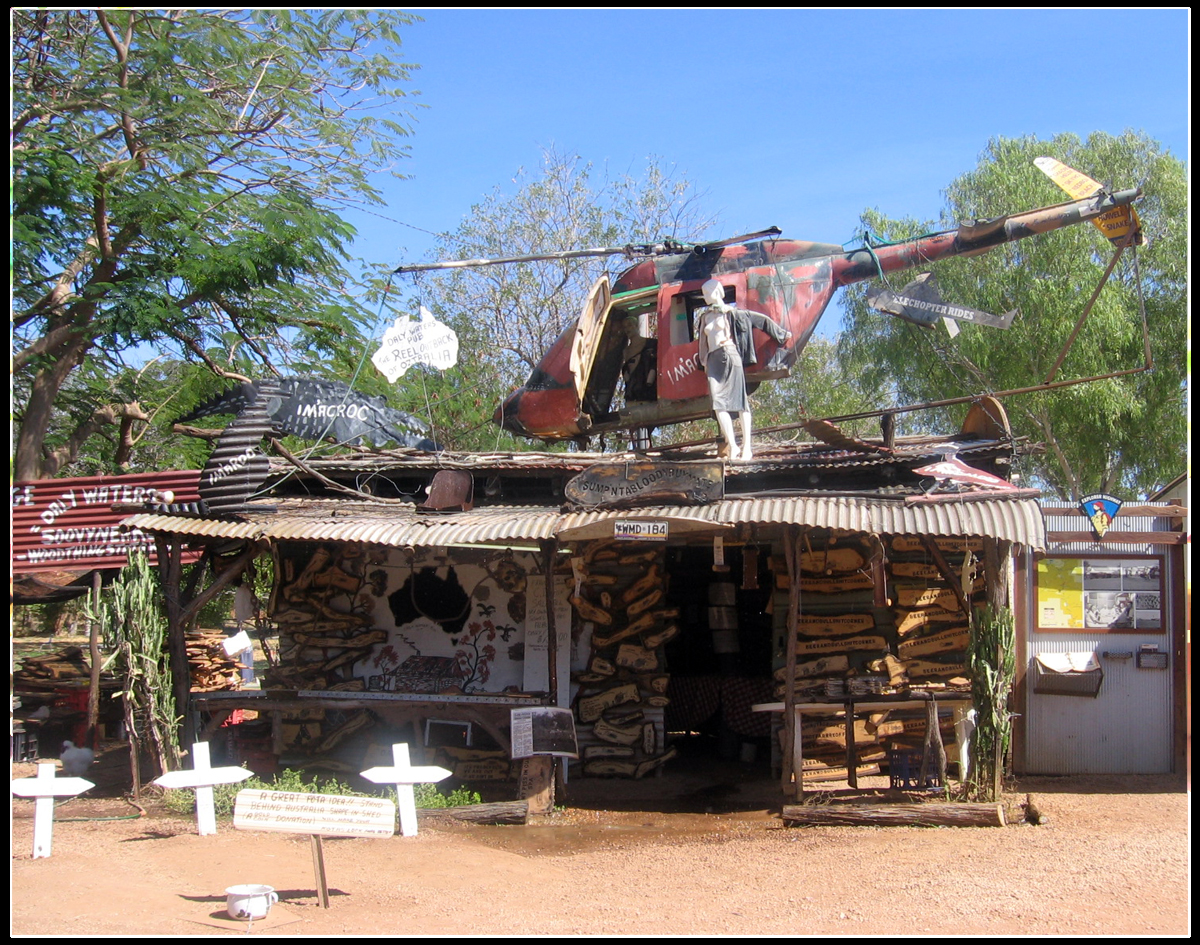 I guess it's kind of a "Mom and Pop" place with a pub and restaurant.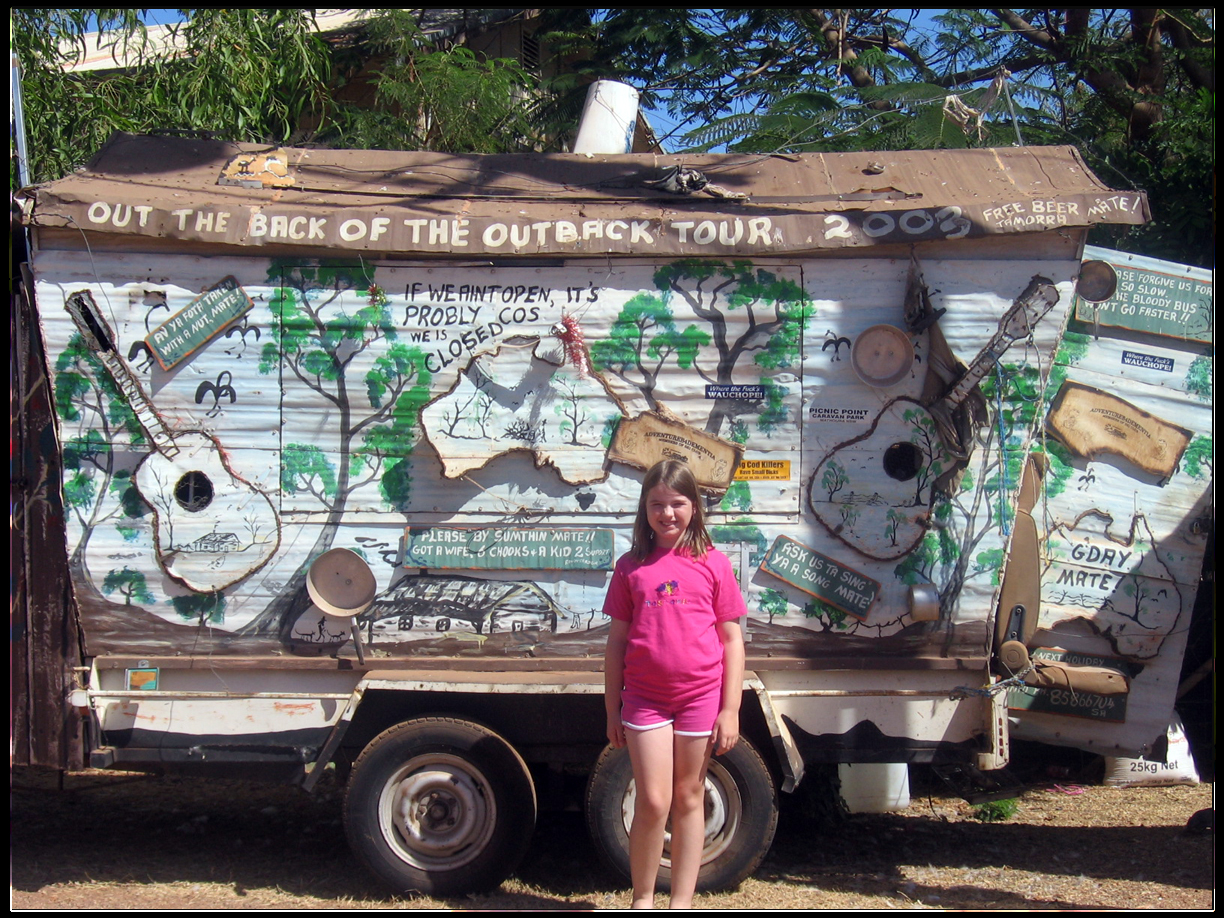 Here's the pub. (I don't know why I didn't get any photos of the inside.)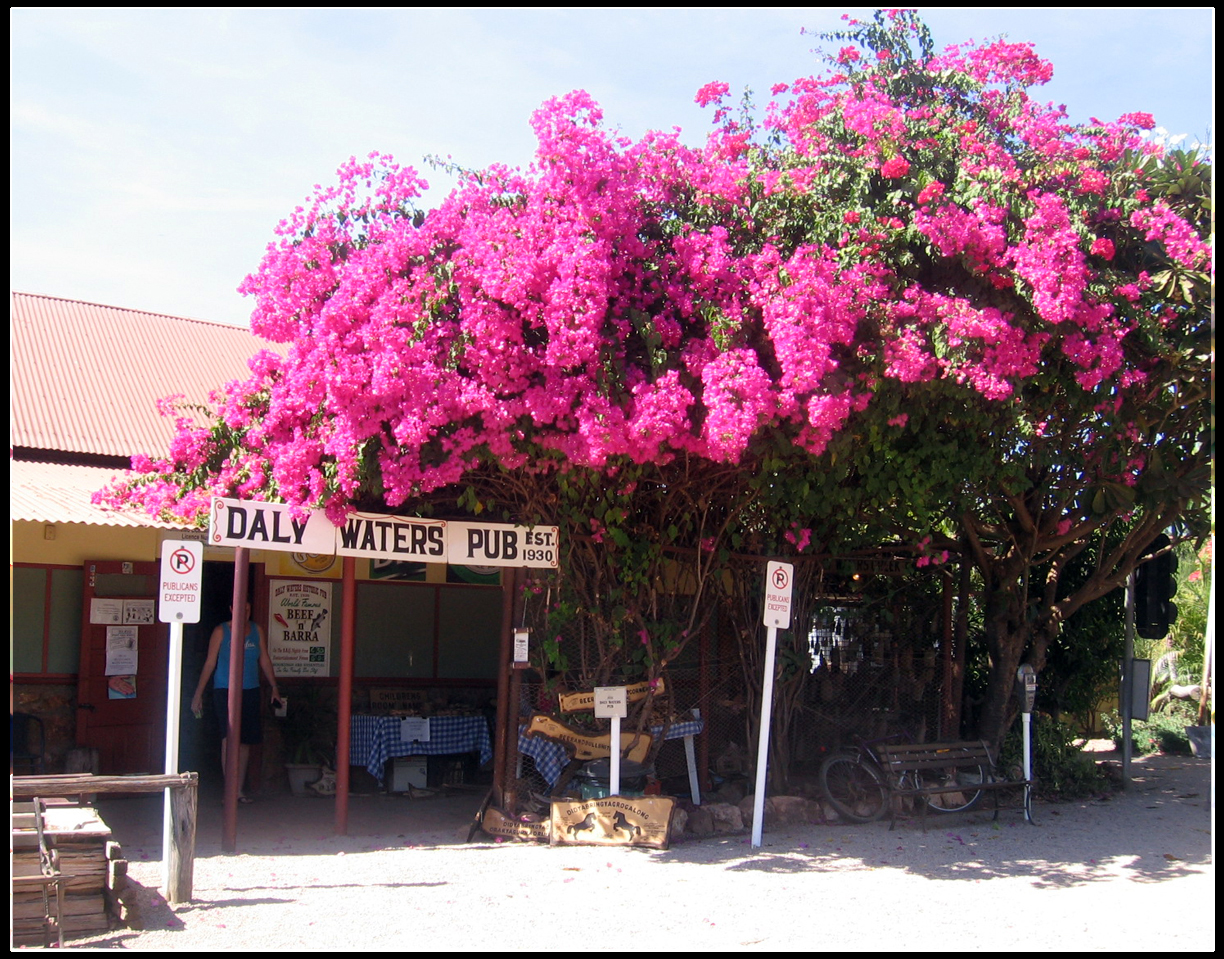 A guy there did wood-burning and he made this guitar for Anna while she waited. Chad's the guitar player, but he didn't want one. Go figger. I bet he's regretting it now! :-)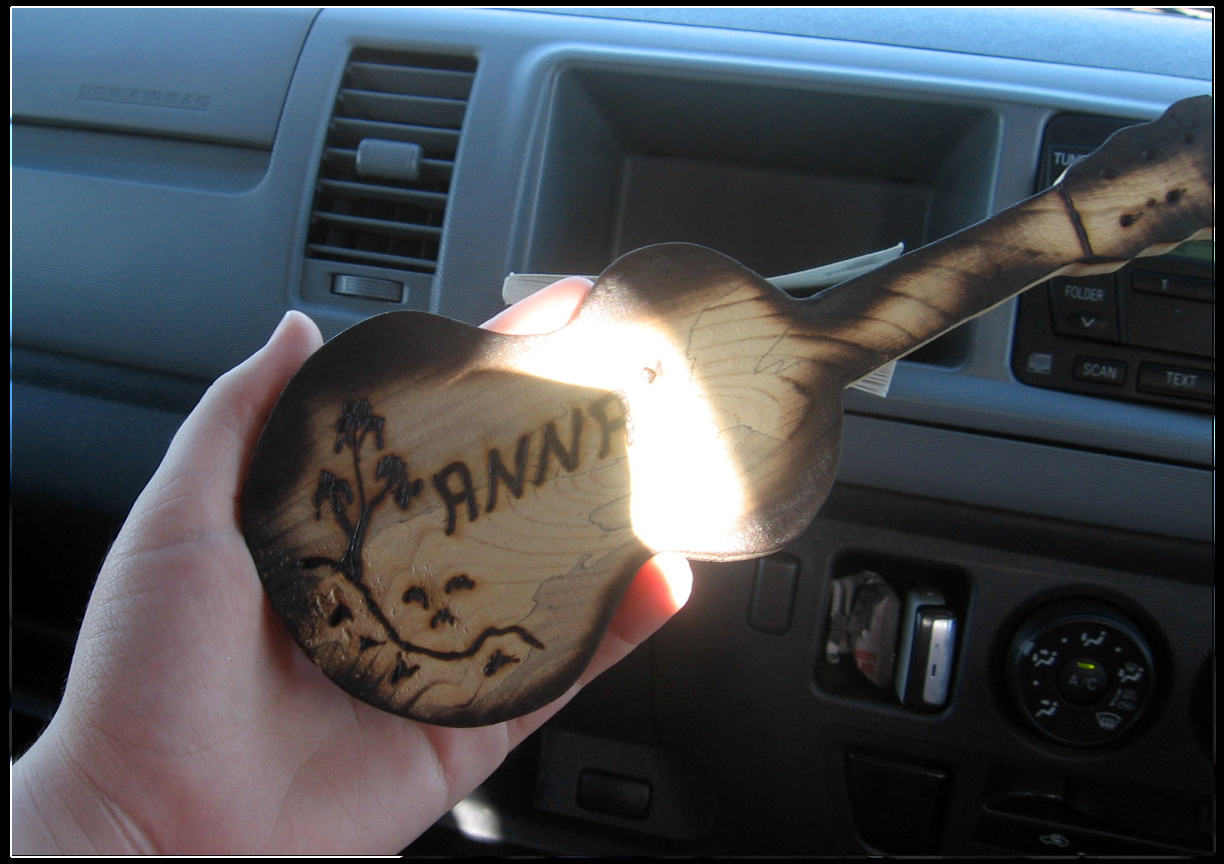 After a long drive home, we're coming back into Alice. The trip is done! It was good. It will be time to start planning the next getaway before we know it...