Meet Stephanie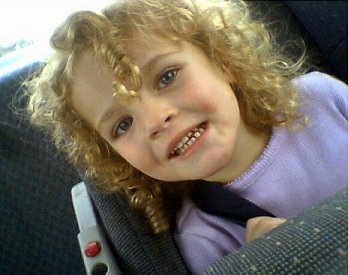 This is our 3-year-old granddaughter, Stephanie. I know it's hard to believe that I, Ellen, could be a grandmother. I'm so young and vivacious and... well, OK, I *am* old enough to be a grandmother, but enough about me! Stephanie is the daughter of Danny's son, Geoffrey, and his significant other, Gina. (By the way, Gina not only plays bass in her and Geoff's band, she is also pursuing her degree in Computer Science. What more could anyone ask for?)
OK, back to Stephanie. She's not only adorable, but also very clever. It seems she has already made her first purchase on
EBAY
! Her dad, Geoff, had purchased some knobs for a guitar he was working on. He left the page up (big mistake) and later, Stephanie apparently got on the computer and saw a list of "other things offered by seller". She chose a lovely telecaster body and clicked on "Buy it now"! So there you go, her first ebay purchase - a nice little gift for Dad!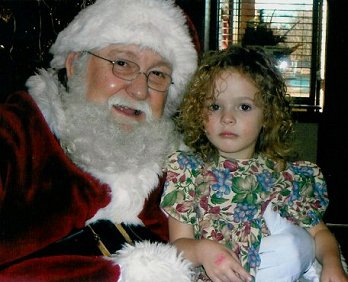 Here she is with Santa, looking less than impressed. Who is this guy?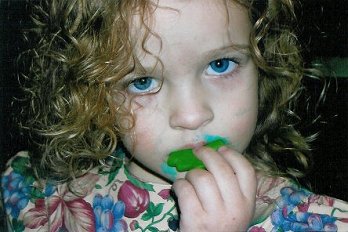 Who could resist those beautiful eyes?

Anna loves being an aunt and can't wait to see Stephanie again. In fact, last Thanksgiving we went around the table, each saying what we were thankful for. When it was Anna's turn, she just said, "I'm thankful for Stephanie and everything else!"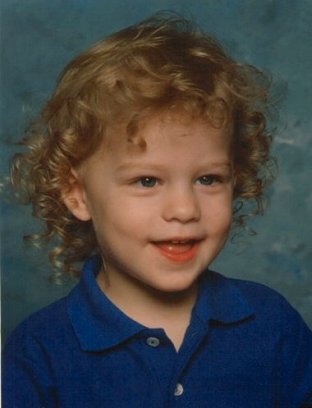 For those of you who didn't know/see Chad when he was a toddler, this is him at age 2. Why did I stick this in here? Only to point out that Stephanie's curly hair reminds us a lot of Chad's when he was young. (He probably wouldn't like having this picture put on the net, but I doubt he'll ever look at our blog, so I'll probably get away with it. Mmwa-ha-ha-ha!)